Who Says You Need 20% Down to Buy a House?
A common misconception is that you need to have 20% down payment of the purchase price to buy a house. That's not the case, there are different loan programs that allow you to buy a house with as little as 3.5% or even 0% down payment!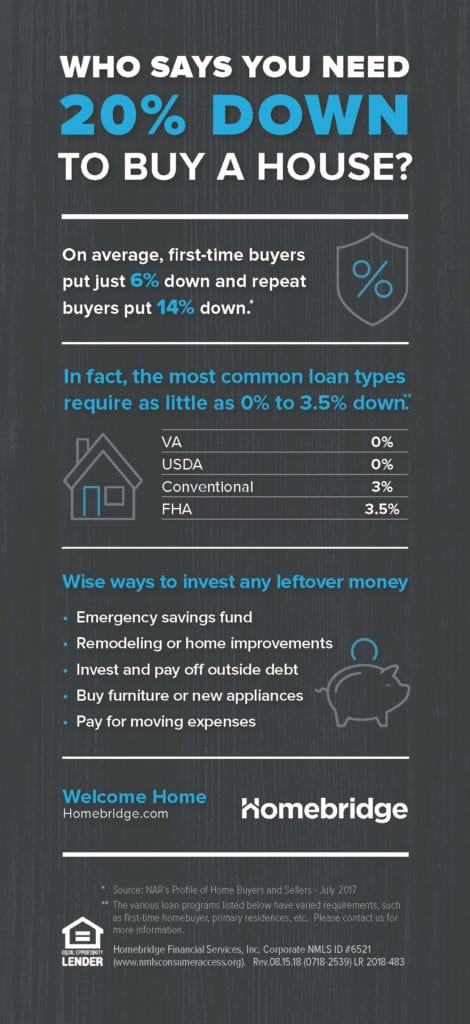 That's right, government loan programs secured or insured by the Federal Housing Administration, also known as FHA loans, are a great way to buy a home with as little as 3.5% down payment. The Department of Veterans Affairs allows for a 0% down payment program for active or retired service members. These VA loans also have some of the best rates in the market. Other loan programs include a USDA loan which is for rural and suburban homebuyers. this loan is issued through the United States Department of Agriculture and also has a 0% down payment option.
On average, first-time buyers put just 6% down and repeat buyers put 14% down.*
The most common loan types require as little as 0% to 3.5% down.**
VA = 0%
USDA = 0%
Conventional = 3%
FHA = 3.5%
* Source: NAR's Profile of Home Buyers and Sellers – July 2017.
** The loan programs listed below have varied requirements: VA Loans: 100% financing up to county loan limits may be available for purchase loans. Minimum FICO score and other restrictions may apply. USDA Loans: Purchased property must be in a USDA eligible area. Primary residences only. Income, credit and other restrictions may apply. Conventional Loans: 3% down payment on purchase of primary 1-unit residences allowed. Income and other restrictions may apply. Please contact us for more information.