What Is A VA Loan?
VA loans are guaranteed, in part, by the U.S. Department of Veterans Affairs (VA) and are available for active-duty military service members, veterans or eligible family members of a military veteran. Advantages include up to 100% financing, competitive interest rates, and no mortgage insurance for eligible borrowers. Active-duty members generally qualify after about six months of service, and reservists and members of the National Guard must wait six years before they can apply unless they're called to active duty before that time. In that case, they gain eligibility after 181 days of active-duty service.
Other VA loan benefits include:
Competitive interest rates
Less restrictive qualification requirements
The right to prepay your mortgage without penalty
Ability to finance the VA funding fee
Limits on closing cost amounts
Assistance to veteran borrowers in default due to a temporary financial difficulty
Regulations and Fees
Although a VA Loan's costs are generally lower than other types of low-down-payment mortgages, they still carry a one-time funding fee. In most cases, VA borrowers can roll this funding fee into their overall loan amount. This fee varies depending on the amount of the down payment and the type of veteran getting the loan. In addition, each time you take advantage of the loan, the fee will be slightly higher than the time before. This fee goes directly to the VA to ensure the program keeps running for future generations of military homebuyers. If injured while on duty and classified as a disabled veteran, a borrower could be eligible for a VA funding fee waiver.
Interest Rate Reduction Refinance Loan
Homeowners with an existing VA loan interested in obtaining a lower interest rate can refinance with an Interest Rate Reduction Refinance Loan (IRRRL), also referred to as the VA Streamline. With an IRRRL, homeowners can also refinance an adjustable-rate mortgage into a fixed-rate mortgage. An IRRRL may be done with no appraisal³ and a FICO score of at least 580. An IRRRL must be a VA-to-VA refinance loan, meaning the homeowner cannot refinance a property purchased using a non-VA loan.
VA Cash-Out Refinance
Although the cash-out refinance is more involved than the VA Streamline, it's the only one of the two available to those with traditional, non-VA mortgages. Prospective borrowers must go through the standard credit and underwriting qualifying procedures to qualify for this VA home loan refinance. A VA Cash-Out Refinance includes credit score evaluations, credit history, debt-to-income ratio, appraisal and income verification.
Related Resources:
VA Loan Requirements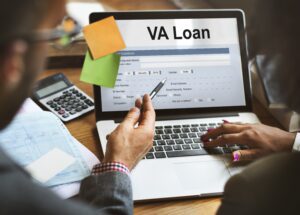 Whether you're an active duty service member or a veteran, you'll need to meet specific service requirements in order to meet eligibility for a VA loan.  Read More…
VA Loan Rates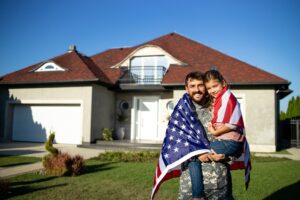 If you're an active duty service member, a veteran, or the spouse of a veteran, competitive VA mortgage loan rates are just one of the many reasons you should consider financing your home with a VA loan.  Read More…
VA Streamline vs Cash out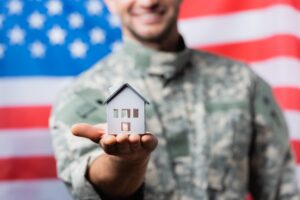 One of the lesser-known benefits of VA loans is that qualified veterans with traditional mortgages can easily refinance into a VA loan. Read more…