FHA 203(

k

)
FNMA HomeStyle
The Perfect Loan for the Almost Perfect Home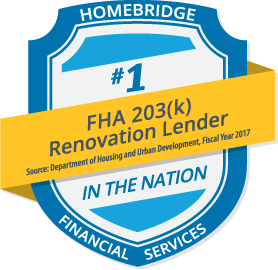 Whether your home improvement projects are large or small, a home renovation loan from HomeBridge Financial Services may be right for you. With a home improvement loan, you'll be able to finance simple upgrades, remodeling or more complex renovation projects, and everything in between. Monthly payments on home renovation loans are typically lower than credit cards or personal loans and, in some cases, financing may even be tax deductible*. If you're considering a home remodel, here is more information about home remodeling loans and what they can do for you and your home.
Renovation Loans: Features & Benefits
Making significant home improvements such as adding an extra room or replacing the roof not only makes a difference in how much you enjoy your home, but it can improve its overall value as well. If you aren't happy with some aging features of your house, consider using a home renovation loan to transform your living space into the home you've always dreamed of. Similarly, home improvement loans can help buyers who decide to purchase a fixer-upper home that requires a significant amount of home remodeling.
Although you may be able to pay for home improvements with a personal loan or other types of financing, these methods have higher interest rates and monthly payments. With a renovation loan, you'll be able to finance a construction period of up to six months with only one set of closing costs and absolutely no prepayment penalty. While the total loan amount is based on the property's appraised value once the repairs are complete,** the down payment requirement is just 3.5 percent.
Renovation Loans from HomeBridge
FHA 203(k) Loan
If you plan to purchase a fixer-upper or renovate your existing home, an FHA 203(k) loan may be the perfect loan for you. FHA 203(k) loans are backed by the federal government, and are a great loan option for those who want to purchase a home and perform upgrades, repairs, remodel or customize to their needs and wants.
HomeBridge is the top home renovation loan lender in the nation. According to data from the Department of Housing and Urban Development (HUD), HomeBridge ranks No. 1 in the nation for originating FHA 203(k) Renovation Loans.
Fannie Mae HomeStyle®
The Fannie Mae HomeStyle renovation loan allows you to either purchase a new home or refinance your existing home and make personalized improvements with one loan closing. The cost of your personalized improvements is placed in an interest-bearing Escrow account and disbursed as the work is completed and inspected.
The HomeStyle loan does not have any minimum amount of improvements or any restrictions on the type of repairs that can be included in your loan. The only requirement is that any improvement must be permanently affixed to the property and adds value to your property. HomeStyle allows you to build home equity while increasing your comfort and enjoyment in home ownership.
If you're interested in learning more about home renovation loans, our Mortgage Loan Originators are ready and eager to discuss the details of this helpful home-financing solution with you.
Testimonials
" As a professional in the housing industry, I am very selective with whom I choose to help me with my loan process. After working with HomeBridge on my rehab loan, I can say that this company truly cares about their clients and doesn't over-promise unachievable goals. Everything from start to finish was a breeze and now I am able to enjoy my newly-renovated home because of the HomeBridge team. "
-Sean S., Florida
" The entire HomeBridge team was fantastic. We did a 203(k) renovation loan, which requires a few more details than a standard refinance. I thoroughly researched different lenders who offered this type of loan and HomeBridge seemed to be the best. I am so pleased with my decision and the rate they gave me. Everyone patiently answered all of my questions and kept me in the loop during the whole process. I highly recommend HomeBridge for renovation lending! "
-Mandy H., Texas
HomeStyle® is a registered trademark of Fannie Mae.
*Please consult a tax advisor for further information regarding the deductibility of interest and charges.
**For 203(k) purchase transactions the maximum loan amount is the lesser of the sales price + renovation costs or 110% of the after improved value, times the maximum loan-to-value.  For refinance transactions the maximum loan amount is the lesser of the property value before renovation + renovation costs or 110% of the after improved value, times the maximum loan-to-value.  The maximum repair amount is limited to 75% of the after improved value.  Loan amount must be within FHA county loan limits.
The above content is for general informational purposes only and is not provided as professional advice for your specific situation. Please speak to a Mortgage Loan Originator to discuss loan options available.
LR 2017-392