About Arlene Kraushaar
As a licensed Homebridge Mortgage Loan Originator in California (NMLS #251774), Arlene Kraushaar can assist you with your home loan needs, including:
First-Time Purchase
Second-Home Purchase
Refinance
FHA and VA
Conventional
203(k) Renovation
Jumbo
Arlene welcomes the opportunity to serve your needs with quick and accurate real estate financing advice. Arlene has the expertise and knowledge, and will make sure you understand the features associated with the loan program you choose and that it meets your unique financial situation.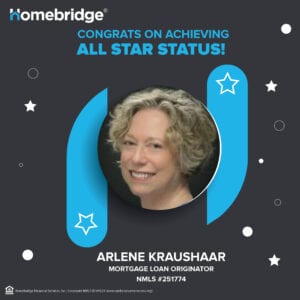 Contact Arlene Kraushaar Anytime
Feel free to contact Arlene anytime by phone or email for personalized service and expert advice. Arlene Kraushaar will extend the same professional service to your friends, family members, work colleagues or neighbors who need help.
Let's Connect!
Mortgage Loan Originator in America
Mortgage Executive Magazine 2016