Renovation loans: what can they be used for?
A renovation loan is an excellent option for homeowners who want to change up their living space with a few improvements, whether big or small. It provides low-interest funding compared to credit cards, which carry an average 15.91% interest rate. When compared to cash, a home renovations loan lets you make the changes you want when you want them, instead of waiting for your savings to meet your goals.
The benefits of a renovation home loan also apply to homebuyers who want to purchase a home in need of repair. In either case, you have several loan options available. They include an FHA 203(k) standard, FHA 203(k) limited, FNMA HomeStyle®, or VA renovation loan. As far as what can be renovated, it depends on your budget, property, and imagination!
What are my home renovation loan options?
Starting the renovation process begins with knowing what your loan options are. Here is a quick rundown of the four programs available.
Fannie Mae HomeStyle® Renovation Loans: These are conventional loans backed by private lenders. This loan is technically capped at 80% of your finished home's value and can be used to fund "luxury" changes to your home. In addition, you can use a HomeStyle® loan to renovate your primary residence, second home, or investment property.
VA Renovation Loan: Sometimes called VA Rehab Loans, these are offered to veterans or active-duty service members who have served 90 consecutive days of active service during wartime or 181 days during peacetime. You are required to have a certificate of eligibility (COE). Details of this program include:
Low-interest rates when compared to other loans for home renovations.
Flexible credit score requirements.
Only covers repairs and upgrades that improve the safety and livability of the home.
FHA 203(k) limited: Backed by the Federal Housing Administration (FHA) and caps its funding at $35,000. This loan will help fund repairs, fixes, and cosmetic changes. These are changes that can be made while you're still living at home.
FHA 203(k) standard: This FHA renovation loan funds major renovations or structural changes that cost at least $5,000. However, the cap can vary depending on county laws. You can replace, construct or demolish different parts of your home with this loan option.
How can I use a loan for home renovations?
Most homeowners have a long list of things they'd like to change about their home. It can be helpful to examine a few of those upgrades to see how a renovation loan can help you make them a reality! Let's start with the most popular home renovation project of last year, yard work.
Outdoors
Landscaping projects seem to have almost limitless potential because, rather than working within a home that has defined architecture, you working with open property and a vision for what you'd want to build. One typical structure you can work on is a new or remodeled deck.
If your deck has seen better days or you don't have one at all, you'll likely want to consider a HomeStyle® loan, as a deck might be viewed as a luxury by FHA standards. A HomeStyle® loan might also be used with other outdoor work — for example, a pergola.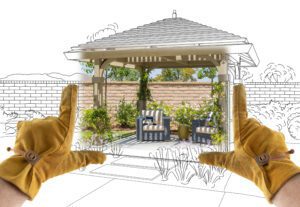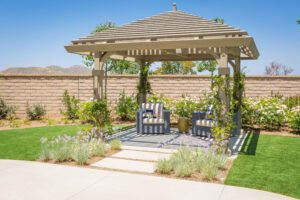 These are unique and versatile structures that can give a cozy indoor feel to your outdoor space. This "room" is held together with four posts that support an open roof. If built above a solid floor, you can decorate the space with chairs and a table as you would with any room. You can even encourage vines to grow along the posts or set up outdoor string lights to add some extra flair.
If you have enough space on your property and local laws permit, you might want to consider building an Accessory Dwelling Units or ADU. Sometimes called a casita or in-law suite, ADUs are separate living areas on the same land as a detached house. They offer a fantastic way to create living space while avoiding the purchase of a second home.
Whether you're going for a she-shed or a man cave, here are a few benefits and uses of an ADU:
Can act as a workshop for passion projects or hobbies
May bring in Additional income when you rent out your ADU*
Living space for extended families that also maintains privacy
The funding you need to apply for depends on the ADU you want to build. An FHA 203(k) standard may fund attached ADUs or convert an existing space into an ADU (think garage), while Homestyle® will let you construct detached ADUs.
Bathroom Renovations
If you're renovating your bathroom, it can feel as if there's nothing more to it than a nicer tub and a newer toilet. However, there are ways to rethink your bathroom remodel not just to improve what's there but bring in something new.
[insert image of remodeled bathroom with a sleek modern look]
One way to make that happen is an upgraded bathroom that uses "smart" or interactive technology components. Though it may seem far-fetched, many of the latest technologies for bathrooms are very practical and could help you save time and money while improving your comfort.
The digital faucet is a prime example. These devices can conserve water and energy in the sink or shower while also adding a stylish look to your bathroom. Many include touchless tech that can turn off or on when they sense that you're near and are about to use water, or they're programable to run for an allotted amount of time.
With a HomeStyle®, FHA 203(k) standard or VA renovation loan, these bathroom upgrades may be possible. However, a VA renovation loan may only be applicable if your current bathroom can be considered unusable.
Shy of a smart bathroom, you may want to fix damaged plumbing or nuts and bolts issues. In that case, both a VA renovation loan or an FHA 203(k) limited loan can be helpful. They focus on providing funding for repairs and can give you the opportunity to add changes like space-saving cabinets and shelves. These changes, along with improvements like a floating vanity, can make the most of a small bathroom while making cleaning less of a chore.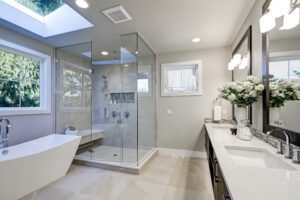 Renovation funding as homeowner vs. a homebuyer
A homeowner's goals may be different from a homebuyer's in terms of home renovation needs. For a homebuyer, purchasing and immediately upgrading a home may make the most sense for their budget. That's because houses in need of TLC can cost substantially less than brand new ones or lived-in homes ready to move in.
If you're purchasing a fixer-upper, customizing it lets you add your personal touch to the space while potentially boosting the property's resale value significantly. If you plan to sell, improvements such as these can make a big difference in how much you recoup:
Kitchen remodels
Home maintenance repairs (ex. HVAC)
Exterior repairs that add "curb appeal"
Additional spaces such as an extra bedroom
In addition to the added boost in home value, buyers can combine a renovation loan with their purchase loan. This provides them with a streamlined process and the chance to save, as both loans are handled with one set of closing costs!
Finding the renovation solution for you
The right renovation option is the one that fits your unique needs and financial position As one of the nation's top renovation lenders — Homebridge has been named the top FHA 203(k) lender by HUD several times over — we understand how to deliver service that goes beyond your expectations.
Our mission is to make your dream of homeownership a reality, and we will work with you to ensure that happens.
To get started on your homeownership journey, contact us today!