There's no place like home, just ask Mackenzie Holowach.
When the pandemic hit, Holowach was transferred to assist at a COVID testing site and later worked in a New Jersey ICU. Changing clothes before entering the home she shared with her sister became her norm and Holowach even spent time living in a hotel to avoid getting her family sick.A diabetes education nurse, Holowach is one of several people recently helped by Homebridge's Frontline Responder promotion, which waives lender fees for nurses, doctors, paramedics, police officers, and firefighters. What's more, qualifying borrowers will also receive a $595 gift card after closing.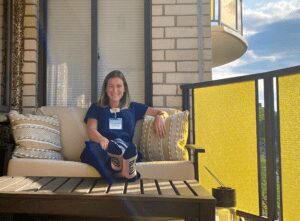 Eager for a haven to call her own, Holowach explains the impact her MLO Erica Siegrist and Homebridge made on her recent journey to homeownership, "The Frontline Responder promotion made me more comfortable with my decision to buy a home. It allowed me to have leftover money in my bank account for emergencies."
Congratulations Mackenzie on your new home!