Since the outbreak of COVID-19 in the United States 3 months ago, many of our normal routines have been altered on a collective level. Companies such as Homebridge are no exception. Throughout the past several weeks, Homebridge has been taking massive steps to ensure that its associates are safe and can serve their customers across all its divisions.
Here are some of the ways that we are responding to the pandemic:
Corporate Operations (Retail and Wholesale Divisions)
Most associates are working remotely
A majority of Homebridge associates are working remotely, including associates across all our corporate departments. Despite working away from their primary offices (and in some cases taking care of children or other loved ones), our associates have been able to sustain a high level of productivity. Only a handful of personnel, spread across the country, are working from a Homebridge office. These include select closers, underwriters and others. In addition to the lower-than-average office capacity, we are encouraging in-office associates to practice handwashing, social distancing and to follow state and local guidelines to limit exposure.
Executive leadership continues to "steer the ship"
Throughout this turbulent period, Homebridge's executive leadership has continued to guide the company to safe waters through transparency and proactivity. This includes frequent email updates about the global situation, video messages from leadership and webinars with other mortgage industry professionals.
Mortgage Loan Originators
Mortgage Loan Originators are getting involved in their local communities
As the pandemic continues, many parts of the country find themselves needing more supplies such as food and masks. Volunteers have donated their time and energy and Homebridge is no exception. All across the country, Homebridge associates are stepping up and helping their communities.
Mortgage Loan Originators continue to serve their customers
Despite not being physically present in offices, all Mortgage Loan Originators are assisting their customers in refinancing, renovating or buying a new home. Whatever your home loan needs are, they're still here to help you.
To show our gratitude to workers on the frontlines of the pandemic, we are offering a special promotion from now until the end of the year.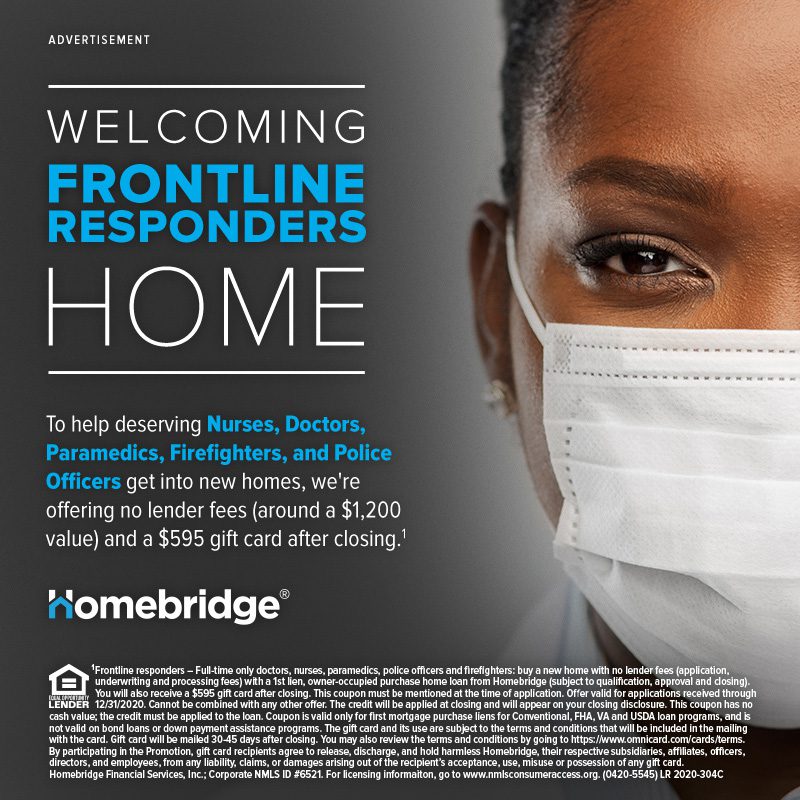 Recruiting
We continue to recruit the best and brightest in the industry
Homebridge continues to hire and train the best that the mortgage industry has to offer. Across many different departments, we are doubling down on our commitment to solidify our operations and staff.
Virtual interviews
For all of our recruiting efforts, we are conducting virtual interviews through video. This allows members of different departments to interact with candidates face-to-face while still maintaining social distancing.
If you're interested in a career at Homebridge, please visit our Careers page.
Partners
Support, advice and guidance to Referral Relationships
We understand that a strong mortgage industry means a strong economy. This involves helping all who are connected to the residential and wholesale mortgage industry, including our network of various relationships across different industries. In response, we have been hosting several webinars to inform and educate our partners on how to respond to current and evolving changes in the mortgage market and the larger economy.
These are some of the ways in which Homebridge is navigating this period and helping everyone connected to our organization do the same. We hope you and your loved ones are well during this time.
If you have questions, comments or concerns, please visit our Contact Us page.