The Department of Veterans Affairs can now back loans that exceed the conforming loan limit.  A bill eliminating this cap was signed into law by President Donald Trump on June 25th, 2019.
The Blue Water Navy Vietnam Veterans Act allows home buyers to borrow above the 2019 limit of $484,350 for most counties without any down payment.  This change is expected to take effect Jan 01, 2020.
The $484,350 limit applies to most counties across the U.S., however there are already many "high-cost" counties such as San Diego, where the limit is currently $690,000.  Currently a qualified VA borrower would need to put down 25% of the amount above the limit – 25k down on a 790k purchase in San Diego.  This new law would eliminate this requirement if the borrower qualifies in all other areas.
VERY IMPORTANT:  If you currently have a VA loan, then the limits will apply to future purchases.  One would have to refinance or sell properties with past VA loans to enable a no limit purchase.  Also, the no limit cap does not apply to refinances.
It is important to understand that the VA does not issue mortgages, it only insures them.  Lenders and banks will have to adjust their lending guidelines as well.
The Chapman Lending Team at HomeBridge Financial is honored to help many veterans utilize their VA home loan benefit each and every year.  We ARE NOT a call center.  Our goal is to provide the best customer service in the industry along with the most competitive rates and fees.
APPLY SECURELY HERE: https://myles.homebridge.com/?apply&nmlsid=1100657
Other VA Loan Questions:
Please enjoy the series of articles on VA Loan Myths, and email with any questions at all.
Now licensed in CA, AZ, NV, HI, WA, TX, GA, VA, MI, OR, FL, KS, KY, OH, IN, SC and N.C.
Semper Fi, Dan Chapman CAPT, USMC (vet)
ChapmanTeam@HomeBridge.com          Call (760) 456-7139
Get a Free Rate Quote  –  Start an Online Application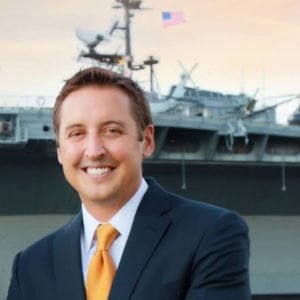 About the author:  Dan Chapman is the branch manager at HomeBridge Financial Services in Carlsbad, CA.  He is ranked as the #1 VA loan officer at HomeBridge Financial (out of 700) and is ranked in top 30 in the entire United States in VA loan origination year after year.  Dan is a Naval Academy graduate, served as a Captain (O-3) in the Marine Corps, and is an Operation Iraqi Freedom veteran.  He has been focused on helping active duty military and veterans attain the dream of home ownership since 2007.  He is actively involved in several local veteran causes and performs VA loan seminars throughout greater San Diego on a monthly basis.  For a free consultation, please contact us anytime.