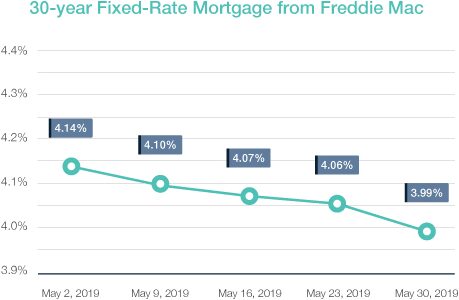 "Sell in May and go away" — an old Wall Street investment strategy which suggests not owning stocks during the Summer months.
That investment strategy certainly worked this past May as stocks declined each week in response to escalating US/China tensions, weakening global economic reports, and increased fears of a US recession.
When stocks fall in price, typically rates fall as well. And this past week we watched the 10-year Note yield decline to 2.14% – a 20-month low. However, home loan rates, which did decline slightly this past week, didn't experience the same sharp drop as the 10-year Note yield.
Why the disconnect? Why did the 10-year Note yield drop so much but home loan rates didn't?
Home loan rates are driven by the trading activity of mortgage-backed securities, and not how the 10-year Note yield moves.
When there is global unrest like we have seen this past week, investors around the globe look to park their money and investments into the "safe-haven" of the US Dollar by purchasing the US 10-year Note. Hence the reason for the larger decline in 10-year Note versus mortgage backed-securities and home loan rates.
Bottom line: Home loan rates may continue to drift lower if the US/China trade turmoil goes unresolved or escalates further.
Next week we will see the most important economic report for the month – the May Jobs Report. Outside of February's soft reading, the labor market has been strong throughout 2019.
On Wednesday, we may get an advanced look on the Jobs Report by way of the ADP Payroll number.
Right now, outside of high impact reports like the Jobs Report, economic data is taking a backseat to the trade issues between the US and China, as well as the geopolitical headlines out of Washington.
If the Jobs Report reading is a disappointment and stocks continue to decline, we will likely see increased chatter of a Fed rate cut in 2019.
History has shown the first Fed rate cut comes 6 months after the last rate hike. The Fed last hiked rates in Dec 2018. We shall see what happens next week.
Reports to watch:
From the manufacturing sector, the Chicago PMI will be released on Monday along with the ISM National Manufacturing Index.
The ADP Private Payrolls Report will be delivered on Wednesday along with the ISM Non-Manufacturing Index.
Weekly Initial Jobless Claims and Productivity will be announced on Thursday.
That brings us to Friday's Jobs Report for May which includes Non-Farm Payrolls, the Unemployment Rate, Hourly Earnings, and the Average Workweek.
If you or someone you know has any questions about home loan rates, please give me a call. I'd be happy to help.
Source: Vantage