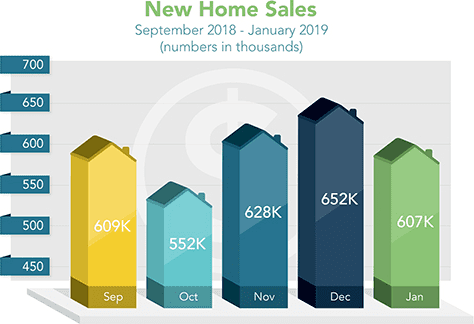 Volatility has disappeared in the financial markets and a sense of calm and complacency has emerged. Why? Well, thanks to the Fed, and to reduced threat of inflation and higher rates, both stocks and bond prices are moving higher.
For 2019, home loan rates have been stable at one-year lows, and everyone's stock portfolio is increasing in value. What's not to like? Complacency will change to volatility at some point, and what we are watching is rising wages and how that may increase inflation in months to come.
Should that happen, we could experience a real shock to the US Bond market and the present interest rate market will be over — and in a hurry. But for now, complacency is the theme as we head into the Spring housing market, meaning good times for us.
The members of the Federal Reserve will convene on Tuesday for the regularly scheduled two-day Federal Open Market Committee meeting to discuss the landscape of the US economy, monetary policy and the Fed's massive balance sheet.
The meeting ends Wednesday with the 2:00 p.m. ET release of the monetary policy statement where there is a near zero percent chance of a hike to the short-term Fed Funds Rate, currently at 2.50%. Fed Chair Powell will hold a press conference immediately following the release at 2:30 p.m. ET.
Remember: the Fed has recently created calm and complacency in the markets by using "dovish" or market-friendly rhetoric. So, what the statement and Mr. Powell reveal about the path of interest rates, inflation outlook, and the balance sheet could impact the markets.
This week also features a few housing market numbers. The markets will also be on the lookout for headlines regarding Brexit and the US-China trade talks.
Reports to watch:
The NAHB Housing Market Index will be released on Monday with Existing Home Saleson Friday.
Weekly Initial Jobless Claims and the Philadelphia Fed Index will be delivered on Friday.
If you or someone you know has questions about home loans, give me a call. I'd be happy to help.
Source: Vantage