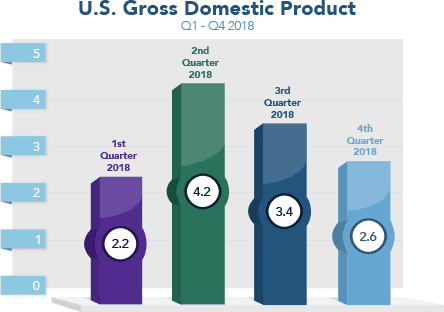 This past week, the Bureau of Economic Analysis (BEA) reported the U.S. economy, as defined by Gross Domestic Product (GDP), grew at a 2.6% rate in the fourth quarter of 2018. Economists and the markets were expecting 2.0% to 2.3%, so this was a nice upside surprise.
This left GDP for all of 2018 at 2.9%. Consumer spending, which makes up nearly two-thirds of GDP, expanded by a solid 2.8% in the fourth quarter – yet slower than the previous quarter.
Another solid number within the report was business investment which grew at a swift 6.2% pace.
This Q4 GDP reading was the first of three – so we will see some revisions in the months ahead.
Seeing the economy grow at such a nice clip despite high stock market volatility and the U.S. government shutdown is a good sign as we head into the spring housing market.
The increased wealth effect caused by the recent rally in Stocks along with one-year lows on home loan rates, rising wages and increased housing inventory sets the stage for an improved 2019 housing market.
This week it's all about Jobs, Jobs, and Jobs as we get the February Jobs Report on Friday.
The Jobs Report for January showed a whopping 304,000 new jobs created as the labor market remains solid.
The Jobs Report "pre-game" comes Wednesday when ADP reports Private Payrolls or non-government jobs created. This report has become a market mover in recent years with the Fed being more "data dependent" and relying on incoming economic news to determine interest rate policy.
Other reports worth tracking include housing, construction, and data from the all-important service sector.
The markets will also continue to deal with geopolitical headlines out of Washington, trade issues, and the North Korean fallout from last week.
Reports to watch:
The ISM Service Sector Index will be released on Tuesday.
New Home Sales will be delivered on Wednesday.
ADP Private Payrolls will be reported on Wednesday.
Non-Farm Payrolls, the Unemployment Rate, and Hourly Earnings will be released on Friday.
Source: Vantage