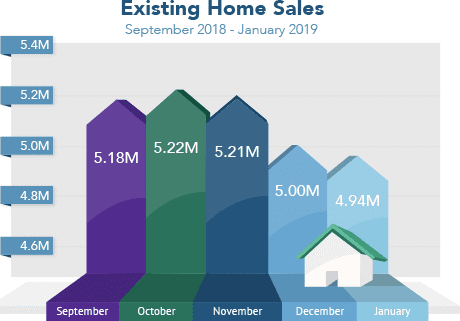 "All we need is just a little patience…" (Guns N' Roses) The highlight of this past week was the Fed Minutes from the January Fed meeting. The minutes are a detailed record of the Fed's monetary policy setting meeting, so the markets gain insight into the psyche of the Fed as it relates to interest rates, the economy and more.
What the markets heard loud and clear from the meeting minutes was PATIENCE — meaning, the Fed is in no rush to hike interest rates and they will watch the incoming economic data to determine when they might hike again. There is now a low probability for another hike in 2019.
What are the most important reports the Fed is watching which can influence rates?
Gross Domestic Product
Inflation (big report next week — more on that below)
Jobs Report
Consumer Confidence
Retail Sales
In response to the minutes, mortgage bond prices and thus home loan rates are hovering near the best levels in a year.
This coming week has a number of risk-filled events for the markets to digest.
Economic data for the week is chockful of reports that will cover a broad spectrum of the U.S. economy with the highlight being the Fed's favorite inflation gauge, the annual Core PCE, currently at 1.9%. Remember, the Fed's goal is for 2% inflation year over year.
The Bond markets will have to deal with a whopping total of $113 billion in added supply from the Treasury in 2, 5 and 7-year T Notes being sold. This huge amount of new debt can put downward pressure on prices and upward pressure on rates.
The main event for next week will be Fed Chair Powell's first semi-annual monetary policy report in front of the Senate Banking Committee on Tuesday and in front of the House Financial Services Committee on Wednesday. Chairman Powell's monetary policy position has been dovish since early January, thereby helping Stocks move higher — we shall see if he maintains the same stance and outlook.
Reports to watch:
Housing data will come from Tuesday's S&P Case-Shiller Home Price Index and New Home Sales followed by Wednesday's Pending Home sales.
Consumer Confidence will be released on Tuesday with Consumer Sentiment on Friday.
Manufacturing data will be delivered with Thursday's Chicago PMI and the ISM Index on Friday.
As usual, Weekly Initial Jobless Claims will be announced on Thursday.
The first reading on fourth quarter 2018 Gross Domestic Product will be released on Thursday.
That brings us to Friday's Core PCE data, along with Personal Spending and Incomes.
If you or someone you know has questions about home loans, give me a call. I'd be happy to help.
Source: Vantage