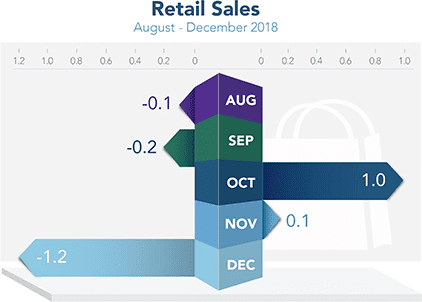 "Only got twenty dollars in my pocket…" (Macklemore & Ryan Lewis) The financial markets are sensing that the predicted government shutdown and protracted trade war with China will be averted. This is good news and a reason why stocks have continued to push higher and home loan rates have capped for the past few weeks.
But last Thursday, Retail Sales was reported at a shocking 9-year low. Combing through the report, a 3.9% decline in internet purchases was a huge negative surprise. With consumer spending making up nearly 70% of GDP, there is fear in the markets that this very poor Retail Sales number is an early warning sign that both consumer spending and thus economic growth are indeed slowing.
One thing we know for sure – bonds love uncertainty and bad news. This Retail Sales report brought both and as a result, pushed prices and home loan rates near the best levels in a year.
We will be watching future Retail Sales reports to see if this is just one bad report or the start of a negative trend.
In any case, reports like these support the Fed to not raise rates in 2019.
This week, housing data dominates the headlines as the sector looks to rebound after ending 2018 on a low note.
Freddie Mac said last week that while housing activity has clearly softened over the last nine months and the lingering effects of higher rates from last year are still being felt, the recent decline in home loan rates coupled with a strong job market should rekindle demand as we enter the spring homebuying season.
The minutes from the January Fed meeting will also be released and while it is generally accepted that the Fed will be on hold for interest rates, the investing community will closely scrutinize the minutes for any signals on the Fed's balance sheet reduction.
All U.S. markets are closed on Monday in observance of Presidents Day.
Reports to watch:
NAHB Housing Market Index will be released on Tuesday followed by Housing Starts and Building Permits on Wednesday and Existing Home Sales on Thursday.
The Philadelphia Fed Index will be delivered on Thursday along with Weekly Initial Jobless Claims and Durable Orders.
If you or someone you know has questions about home loans, give me a call. I'd be happy to help.