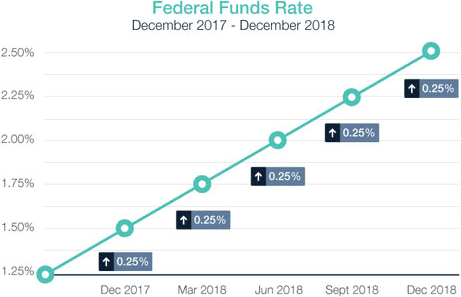 It was all about the Fed this past week. On Wednesday, they hiked the Fed Funds Rate by 25 basis points (0.25 percent). That rate affects short-term loans like auto and credit cards — what it doesn't affect are home loan rates.
Home loan rates actually improved to the best levels since April. Why?
The Fed Statement suggested that inflation is moderating and remains beneath the Fed's target of 2 percent year over year.
If Inflation remains low, long term rates — like mortgages, will also remain relatively low.
Also helping home loan rates improve was a big selloff in Stocks. The Stock market hated the Fed Monetary Policy Statement which suggested more hikes next year, despite acknowledging low inflation and slowing economic conditions around the globe. Stocks don't like Fed rate hikes as they weigh on economic growth due to added costs of financing.
Bottom line — home loan rates moved nicely lower this past week representing the best time since spring to either purchase or refinance a home.
The financial markets enter what is typically one of the slowest weeks of the year as the Christmas holiday is celebrated.
The Stock and Bond markets will close early on Monday and will be closed Tuesday for Christmas.
Economic news will be on the light side with housing data and Consumer Confidence as the highlights.
However — the Bond markets will have to contend with the Treasury Department auctioning off a total of $113B in 2, 5 and 7-year Notes on Monday, Wednesday and Thursday. If the buying appetite at these auctions are not good, home loan rates might suffer.
A "Santa Claus rally" for Stocks usually takes place in the month of December, generally seen in the last week of the year from December 26 to January 2. We shall see if that comes to pass and that too could negatively impact home loan rates.
Reports to watch:
Housing data will come from Wednesday's S&P Case-Shiller Home Price Index, followed by New Home Sales on Thursday and Friday's Pending Home Sales.
Consumer Confidence will be delivered on Thursday and is running at sky-high levels.