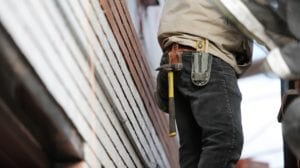 NOVEMBER 2018 
HOME REMODELING TIP OF THE MONTH
Your Renovation Concierge Service reviews over 150 potential work writes each month and one of the main requested improvements we see from around the country is new heating and cooling systems. In a majority of these transactions, the new heating and/or cooling system can cost $10,000 +, but very few of these work write ups ever discuss the "Duct Work System". Have you ever thought about the importance of the ductwork system in your home?
The organization named Energy Saver states: "Your air ducts are one of the most important systems in your home, and if the ducts are poorly sealed or insulated they are likely contributing to higher energy bills."
 Energy Star states: "In typical homes, 20 to 30 percent of the air that moves through the duct systems is lost due to leaks, holes and poorly installed ducts."
So consider an average work write up where the homeowner has requested a new high energy efficient HVAC System. The unit cost $14,000 and is rated high on all the efficiency charts. Has anyone discussed the efficiency of the ductwork system that will be responsible for moving the air throughout the home? Probably not, however if the ductwork system is flawed, the efficiency of the new unit is compromised and your customer will not fully enjoy the intended benefit of their new home's heating and cooling system.
ENERGY STAR GOES ON TO LIST THE FOLLOWING BENEFITS FROM PROPERLYSEALING THE DUCTWORK IN YOUR HOME:
 Improved comfort with home being cool in the summer and warm in the winter
Energy Savings and lower monthly utility expenses
Improved Air Quality which if not corrected could aggravate asthma and allergy problems
Improved Safety from something called "back drafting" where leaky ductwork can cause certain gases to be drawn back into living spaces
Peace of Mind of knowing you did the right thing to protect your home, family and the environment
PLEASE VISIT https://www.energystar.gov/ FOR MORE IMPORTANT ENERGY RELATED TIPS.
**Looking Out For Your Best Interest**
Brandy Whitmire | Branch Manager | Mortgage Loan Originator | NMLS #194877
HomeBridge Financial Services, Inc., DBA FinanceMyHome.com
Mobile APP: www.BrandysApp.com | Application: www.BrandyWhitmire.info