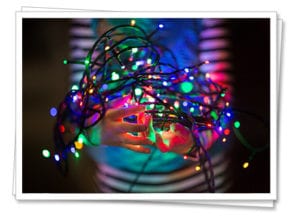 Electrical Safety Tips During the Holidays
Decorating your home is one of the most enjoyable parts of the holiday season. Because electricity is involved with so many holiday decorations, it's important you follow a few simple tips to keep your home and family safe.
Checking your decorations and electrical equipment for damage is one of the most important things you can do to stay safe this holiday season. Before plugging anything in, inspect electrical outlets to ensure they aren't loose, damaged, or cracked. You should also look for damage to your decorations themselves, like cracked bulbs and frayed electrical cords, and refrain from using decorations with these problems.
Avoid overloading your electrical outlets. If you're using incandescent light strings to decorate your home or your tree, never plug more than one of these strings into a single outlet. Also, don't plug multiple high-wattage decorations into one outlet. Either of these decorating missteps can easily overload the outlet and increase your risk for a house fire.
Buy the right decorations. When you're shopping for your indoor and outdoor decorations, look for items that have been certified by an independent testing laboratory. This means a decoration has been successfully safety-tested.
Lastly, make sure you unplug your electrical decorations whenever you leave your house and when you go to sleep at night. Many electrical fires occur when homeowners are asleep or out of the home, so taking this extra precaution is an important safety tip.
If you want to enjoy a safe holiday season, follow each of these electrical safety tips. Using electrical decorations responsibly can help protect your family from harm while you also transform your home for the holidays.
Sources: esfi.org and esasafe.com
**Looking Out For Your Best Interest**
Brandy Whitmire | Branch Manager | Mortgage Loan Originator | NMLS #194877
HomeBridge Financial Services, Inc., DBA FinanceMyHome.com
Mobile APP: www.BrandysApp.com | Application: www.BrandyWhitmire.info