Most veterans know they can purchase a home with ZERO down payment with a VA loan.  However, when refinancing with a VA loan, can one pull out 100% of the home's value?
The short answer is yes, however, it does depend on the lender.  Many lenders have "overlays" capping the refinance at a maximum LTV (loan-to-value) of 90% or less on a VA refinance.  HomeBridge is not one of these lenders.  We will refinance up to 100% of your home's value.  The limit in Texas is 80% for all lenders.  For example, if your home is worth $200,000, we will VA refinance your home for $200,000.  If you only owe $150,000, you can pull out $50,000 of equity to use for whatever you wish.  If a person is paying high interest on credit cards and/or consumer loans, then a refinance could significantly help.  Mortgage interest is also a tax write-off, which also can help.
SEPT 2019 UPDATE:  New guidelines have forced all lenders to have higher rates and/or charge additional points on any VA cash-out loans above 90% loan to value.
In addition to the home's value, the lender must also take into account the VA county limit that applies to the home.  The 2019 nationwide zero down limit is $484,350.  Some "high-cost" areas such as San Diego ($690,000) have a higher limit.  One can borrow beyond these limits if their home's value is high enough (based on appraisal).  For example:  a client in San Diego that has a home worth $790,000 can borrow up to 75% above the county limit (690k).  In this case, they can borrow $765,000.  For information on the 2019 VA limits, see our blog:
https://www.homebridge.com/2018/11/27/2019vahomeloancountylimits/
There is also the matter of the VA funding fee.  Although the funding fee can be added into the loan, it can be significant (between 2.15 and 3.3%).   It is 3.3% for ALL VA Cash-Out refinances if there is no disability rating.  For more info, read our VA Funding Fee Blog Post.  If the veteran collects VA disability (usually 10% or more rating), then the funding fee is ALWAYS waived.
The VA Cash-Out refinance should not be confused with the VA Streamline IRRRL program.  The IRRRL program is only used when simply lowering the rate and not taking cash out.  For more info, see below:
The Chapman Lending Team at HomeBridge Financial is honored to help many veterans utilize their VA home loan benefit each and every year.  We ARE NOT a call center.  Our goal is to provide the best customer service in the industry along with the most competitive rates and fees.
APPLY SECURELY HERE:  https://myles.homebridge.com/?apply&nmlsid=1100657
Other VA Loan Questions:
Please enjoy the series of articles on VA Loan Myths, and email with any questions at all.
The Chapman Lending Team at HomeBridge covers every county in California, Arizona, Georgia, Hawaii, Washington, Texas, Florida, Oregon, Nevada, North Carolina, Michigan and Virginia.  HomeBridge Financial lends in all 50 states. We are VA loan experts and help hundreds of veterans each year.
Now licensed in CA, AZ, NV, HI, WA, TX, CO, GA, VA, FL, KS, KY, OH, TN, SC and N.C
Semper Fi, Dan Chapman CAPT, USMC (vet)
ChapmanTeam@HomeBridge.com          Call (760) 456-7139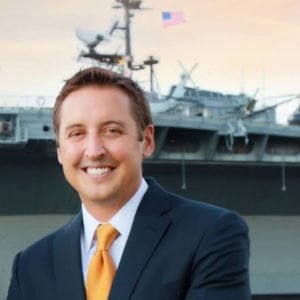 About the author:  Dan Chapman is the branch manager at HomeBridge Financial Services in Carlsbad, CA.  He is ranked as the #1 VA loan officer at HomeBridge Financial (out of 700) and is ranked in top 30 in the entire United States in VA loan origination year after year.  Dan is a Naval Academy graduate, served as a Captain (O-3) in the Marine Corps, and is an Operation Iraqi Freedom veteran.  He has been focused on helping active duty military and veterans attain the dream of home ownership since 2007.  He is actively involved in several local veteran causes and performs VA loan seminars throughout greater San Diego on a monthly basis.  For a free consultation, please contact us anytime.