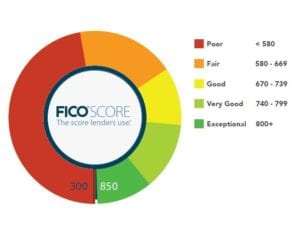 How my FICO score is calculated?
The FICO score is calculated from several different pieces of credit data in your credit report. This data is grouped into five categories as outlined below. The percentages in the chart reflect how important each of the categories is determining how your FICO score is calculated. Your FICO score considers both positive and negative information in your credit report. Late payments will lower your FICO score, but establishing or re-establishing a good track record of making payments on time will raise your score.
Payment history– 35% The first thing any lender wants to know is whether you've paid past credit accounts on time. This is one of the most important factors in FICO score.
Amount owed– 30% Having credit accounts and owing money on them does not necessarily mean you are a high-risk borrower with a low FICO score.
Length of credit history -15% In general a longer credit history will increase your FICO score however even people who haven't been using credit long have may have a high FICO score depending on how the rest of the credit report looks.
Types of credit – 10% The score will consider your mix of credit cards, retail accounts, installment loans, finance company accounts and mortgage loans.
New Credit– 10% Research shows that opening several credit accounts in a short period of time represents a greater risk – especially for people who don't have a long credit history.
 Importance of categories varies per person.
Your FICO credit score is calculated based on these 5 categories. For some groups the importance of these categories may vary; for example people who have not been using credit long will be factored differently than those with a longer credit history. The importance of any one factor in your credit score calculation depends on the overall information in your credit report. For some people one factor may have a larger impact that it would for someone with a much different credit history. In addition as the information in your credit report changes, so does the importance of any factor in determining your FICO score. Therefore, it's impossible to measure the exact impact of a single factor in how your credit score is calculate without looking at your entire report. Even the levels of importance shown in the FICO score chart are for the general population and will be different for different credit profiles.
**Looking Out For Your Best Interest**
Brandy Whitmire | Branch Manager | Mortgage Loan Originator | NMLS #194877 
Office Phone: 214-660-5000 | Email: BWhitmire@financemyhome.com
HomeBridge Financial Services, Inc., DBA FinanceMyHome.com   
Mobile APP: www.BrandysApp.com
Application: www.BrandyWhitmire.info