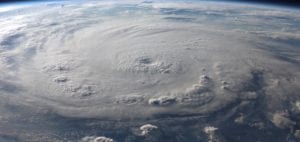 12 ways to prep for high winds and high water
Here's how to prep for the hurricanes, Nor'easters and flooding that plague many parts of the country.
Remove dead tree limbs.
Secure patio furniture, trash barrels, hanging plants, awnings, fences, toys, or bring inside.
Check roof shingles, install hurricane straps or clips in hurricane-prone areas.
Clear gutters and downspouts.
In hurricane-prone areas, install storm shutters, have 5/8" plywood for windows, or replace them with high-impact glass.
Install heavy-duty door hardware.
Elevate articles in basement or on ground floor.
Fill bathtub and containers with water for cleaning and flushing toilets.
Shoot video or photos of all possessions and store in a safe place, along with jewelry and important documents.
If you anticipate a power outage, charge cell phones, put refrigerator and freezer on coldest settingand only open when necessary; or purchase a generator.
Have on hand: flashlights, batteries, first-aid kit, working fire extinguisher, cash.
Fuel all vehicles.
If you need a mortgage, or want to refinance for a lower rate or improvements, please text, email or call us any time…. Have a great day!
P.S.: Mortgage rates are still historically low; contact us about today's excellent options.
**Looking Out For Your Best Interest**
Brandy Whitmire | Branch Manager | Mortgage Loan Originator | NMLS #194877 
Office Phone: 214-660-5000 | Email: BWhitmire@financemyhome.com
HomeBridge Financial Services, Inc., DBA FinanceMyHome.com   
Mobile APP: www.BrandysApp.com
Application: www.BrandyWhitmire.info