What is a HomeBridge VA Renovation Loan?
As the #1 renovation lender in the U.S., HomeBridge Financial is proud to be one of the few VA lenders in the country to feature the VA renovation loan.  The HomeBridge Renovation Loan is a long-term, owner-occupied renovation mortgage, insured by the VA, just like a regular VA home loan.  The VA renovation loan helps borrowers purchase and renovate a primary residence between 1 – 4 units.   Renovation costs (between $15,000 – $35,000 max) are wrapped into the mortgage as a single loan; the total loan amount is typically equal to the purchase price plus the total estimated cost of repairs.
VA Renovation loans are a unique type of VA loan in that they allow for the purchase and renovation of a residential property under a single loan. Typical loan terms are between 15 – 30 years, making it a long-term renovation option for homeowners.
Who is the HomeBridge VA Renovation Loan Right For?
These loans are therefore right for only a specific type of VA buyer:
New homeowners looking to purchase and renovate their first primary residence
VA renovation loans can be used to finance the purchase and renovation of the following owner-occupied properties:
Short-Sales
Foreclosures
Non-Distressed REO Properties
Homes Sold at a Real Estate Auction
New Homeowners must use the VA renovation loan for the purchase and renovation of their a primary residence.  Remember that the VA renovation loan isn't suitable for an investor looking for renovation financing. If you're a rehab investor or if you don't meet the VA loan qualifications, you'll want to instead check for other financing options.
It's also important to remember that the VA loan allows a home buyer to use seller credit to pay off debt, up to 4% of the purchase price.  Therefore, one could go into a purchase with ZERO down payment, pay off debt, and get a $35,000 remodel to boot.
CASE STUDY:  Captain Smith wants to buy a home in San Diego for $500,000, has no savings, $20,000 in credit card debt, and the home he wants needs a new kitchen, flooring, and paint.  Capt. Smith's is pre-approved with the Chapman VA Loan Team and his realtor negotiates an offer at $500,000 with a 4% seller credit toward closing costs/debt payoff.  As the lender, we can pay his typical closing costs (around 2% typically) by increasing his interest rate and creating a lender rebate.  This enables us to use the 4%/$20,000 to pay off his credit card debt.  We will also include $35,000 on top of the $500,000 for the home remodel.  The VA appraiser will appraise the home based on the after remodel condition.  Capt Smith closes the home with a mortgage of $535,000, gets a freshly remodeled home, and clears away his credit card debt.  
VA LOAN FAQ's:
The Chapman VA Loan Team at HomeBridge Financial is honored to help many veterans utilize their VA home loan benefit each and every year.  Our goal is to provide the best customer service in the industry along with the most competitive rates and fees.
Now licensed in CA, AZ, NV, HI, WA, TX, GA, VA, MI, OR, FL and N.C.
Semper Fi, Dan Chapman CAPT, USMC (vet)
ChapmanTeam@HomeBridge.com          Call (760) 456-7139
Get a Free Rate Quote  –  Start an Online Application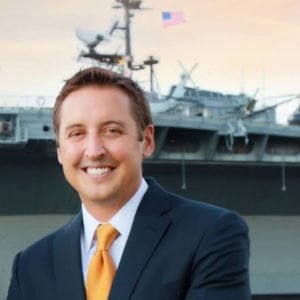 About the author:  Dan Chapman is the branch manager at HomeBridge Financial Services in Carlsbad, CA.  He is ranked as the #1 VA loan officer at HomeBridge Financial (out of 700) and is ranked in top 30 in the entire United States in VA loan origination year after year.  Dan is a Naval Academy graduate, served as a Captain (O-3) in the Marine Corps, and is an Operation Iraqi Freedom veteran.  He has been focused on helping active duty military and veterans attain the dream of home ownership since 2007.  He is actively involved in several local veteran causes and performs VA loan seminars throughout greater San Diego on a monthly basis.  For a free consultation, please contact us anytime.