"Hey, big spender." (Shirley Bassey) After three straight months of declines, retail sales rebounded in March as consumers spent their hard-earned dollars.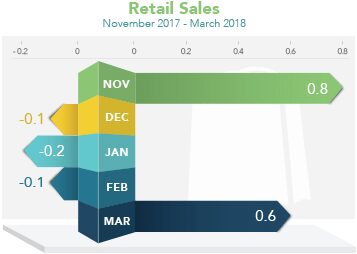 Retail sales rose 0.6 percent in March, above the 0.4 percent expected and up from the decline of 0.1 percent in February, the Commerce Department reported. Leading the boost was spending on automobiles, health and personal care items. Consumer spending makes up two-thirds of U.S. economic activity and is crucial to a healthy economy.
Housing starts also bloomed in March, rising 1.9 percent from February to an annual rate of 1.319 million units, per the Commerce Department. February's figure was also revised higher to 1.295 million units. Housing starts got a big boost from a 16.1 percent monthly increase from the multi-dwelling sector. However, things were less rosy for those interested in single family homes, as single-family starts fell 3.7 percent from February. From March 2017 to March 2018, Housing starts were up 10.9 percent.
Building permits, a sign of future construction, rose 2.5 percent from February to March to an annual rate of 1.354 million. Limited inventory remains a challenge in many areas of the country, so it will be important to see if housing starts continue to blossom and if single family starts shift gears higher.
Mortgage bonds struggled in the latest week, approaching five-year lows, due to strong economic news and positive data. Home loan rates have edged higher but still remain historically attractive.
The busy economic calendar contains key releases on home sales and first quarter GDP.
Housing data kicks off the week with Existing Home Sales on Monday. The S&P/Case-Shiller Home Price Index and New Home Sales follow on Tuesday.
Look for Consumer Confidence on Tuesday and the Consumer Sentiment Index on Friday.
On Thursday, weekly Initial Jobless Claims and Durable Goods Orders will be reported.
On Friday, Gross Domestic Product, the Employment Cost Index and the Chicago PMI will be released.
If you or someone you know has any questions about rates or home loans, please get in touch. I'd be happy to help.