"Don't you shiver, shiver, shiver." (Coldplay) Job growth slowed in March due in part to harsh weather across much of the country, but there's more to this story.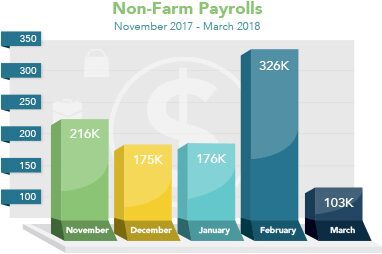 Just 103,000 jobs were created in March, much lower than the 175,000 expected, the Bureau of Labor Statistics reported. February's report was revised higher to 326,000 new jobs from 313,000, while January was revised lower to 176,000 from 239,000. The unemployment rate was unchanged at 4.1 percent.
Average hourly earnings came in at 0.3 percent, higher than expectations. Annual wage growth ticked up to 2.7 percent in March from 2.6 percent for the 12 months ending in February. The first quarter of 2018 also saw higher job growth than the same period last year, as an average of 202,000 new jobs were created in the first three months of 2018 compared to 177,000 in 2017. Overall, despite the disappointing headline number, there was some positive news in the report.
In housing news, home prices continued to push higher in February due in part to the ongoing theme of limited housing supply on the markets. Research firm CoreLogic reported that home prices, including distressed sales, rose 6.7 percent from February 2017 to February 2018 and were up 1 percent from January to February. Looking ahead, CoreLogic forecasts that home prices will rise 4.7 percent from February 2018 to February 2019.
Extreme volatility continued in the markets this week, as uncertainty regarding tariffs and a trade war with China caused wild swings in stocks. Mortgage bonds were stuck in a sideways trading pattern, while home loan rates remain historically attractive.
Inflation news highlights an otherwise quiet economic calendar.
Wholesale inflation data via the Producer Price Index will be released on Tuesday. The more closely-watched Consumer Price Index follows on Wednesday.
On Thursday, weekly Initial Jobless Claims will be delivered.
On Friday, look for the Consumer Sentiment Index.
If you or someone you know has any questions about home loan products, please give me a call. I'd be happy to help.