"Slip slidin' away." (Simon and Garfunkel) Sales of existing homes slipped in January as low inventories of homes for sale on the market continued to challenge would-be buyers.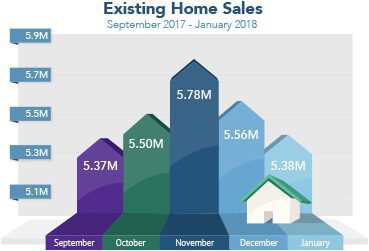 January existing home sales declined 3.2 percent from December to an annual rate of 5.38 million units versus the 5.62 million expected, the National Association of REALTORS® reported. Sales were down 4.8 percent from a year ago, the largest decline since August 2014 and the slowest pace since last September. Inventories continue to be a problem with just a 3.4-month supply at the current sales pace. A 6-month supply is considered healthy.
Lawrence Yun, NAR chief economist, noted, "The utter lack of sufficient housing supply and its influence on higher home prices muted overall sales activity in much of the U.S. last month."
The minutes from the Fed's January FOMC meeting were released, and they revealed that members are committed to raising the short-term Fed funds rate three or more times in 2018. This is the rate at which banks lend money to each other overnight, and it does not directly impact home loan rates. The minutes also showed that most Fed members believe inflation will pick up this year.
Both stocks and bonds have worsened due to hints of inflation in recent weeks. Inflation reduces the value of fixed investments, meaning it can hurt mortgage bonds and the home loan rates tied to them. Stocks, meanwhile, have reacted negatively since inflation can bring higher rates and higher rates hurt corporate borrowing.
As such, the Fed and the markets will be watching closely to see if the Fed's favorite inflation gauge, annualized Core Personal Consumption Expenditures (PCE), rose in January when the report is released on March 1. It is currently at 1.5 percent, still well below the Fed's target of 2 percent. The markets could react strongly, depending on what the data shows.
Mortgage bonds experienced volatility in the latest week despite the quiet economic calendar, hitting lows not seen since 2014. Home loan rates have risen but remain attractive and near historic lows.
The busy calendar brings news on housing, manufacturing, economic growth, consumer spending and inflation.
Housing data kicks off the week on Monday with New Home Sales, followed by Pending Home Sales on Wednesday.
Look for manufacturing numbers from Durable Goods Orders on Tuesday, Chicago PMI on Wednesday and the ISM Index on Thursday.
Consumer Confidence will be released on Tuesday while the Consumer Sentiment Index follows on Friday.
The second reading on Gross Domestic Product for the fourth quarter of 2017 will be delivered on Wednesday.
Thursday brings Personal Consumption Expenditures, Personal Income, Personal Spending and weekly Initial Jobless Claims.
If you or someone you know has questions about home loan products or rates, please contact me. I'm always happy to help.