"Feeling hot hot hot." (The Merrymen) Inflation and housing starts heated up in January, but retail sales were on the chilly side.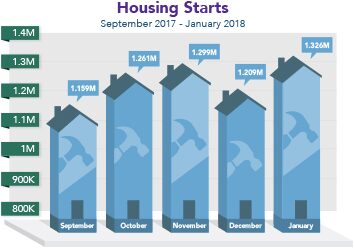 January housing starts jumped 9.7 percent from December to an annual rate of 1.326 million units, above expectations, per the Commerce Department. This was the highest level since October 2016 and up 7.3 percent from January 2017. Single-family starts, which account for the largest share of the market, rose 3.7 percent from December and are up 7.6 percent from January 2017. Multi-dwelling starts, which include five or more units, surged 19.7 percent from December. Housing starts rose in the Northeast, South and West but declined in the Midwest.
Building permits, a sign of future construction, rose 7.4 percent from December to an annual rate of 1.396 million units. The strong report could be a welcome sign for buyers struggling with low inventory around much of the country.
Consumer inflation also edged higher in January, with a key component spiking to a 12-month high. The Consumer Price Index (CPI) rose 0.5 percent in January, just above expectations due to higher gasoline prices, the Labor Department reported. The more closely watched Core CPI, which strips out volatile food and energy prices, rose 0.3 percent from December. This was the largest increase in a year, boosted by rising rents.
The Producer Price Index, which measures wholesale inflation, rose 0.4 percent in January, in line with expectations. Core PPI came in a bit hotter than anticipated.
The increase in inflation has spooked both the stock and bond markets in recent weeks. Signs of inflation can hurt fixed investments like mortgage bonds and impact the home loan rates tied to them. The Fed, investors and anyone looking to purchase or refinance a home should keep a close eye on inflation news in the weeks and months ahead.
Retail sales decreased 0.3 percent in January, while December's reading was revised downward to 0 percent from a 0.4 percent increase, per the Commerce Department. The key highlight was that consumer spending wasn't strong in recent months, and this could impact GDP expectations.
Mortgage bonds have struggled in recent weeks, though they are attempting to stabilize. Home loan rates have risen but remain near historic lows.
Housing news highlights an otherwise quiet economic calendar. The markets are closed Monday for Presidents Day.
Existing Home Sales will be released on Wednesday.
Look for weekly Initial Jobless Claims on Thursday.
If you or someone you know has questions about home loan rates, please contact me. I'm always happy to help.