"Hey, big spender. Spend a little time with me." (Shirley Bassey) Consumer spending ended 2017 on a high note as Americans purchased an array of goods and products.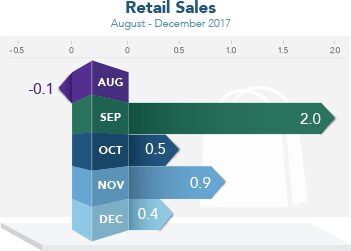 Retail sales rose 0.4 percent in December, in line with estimates, the Commerce Department reported. November's reading was also revised higher to 0.9 percent from 0.8 percent. Overall, retail sales rose 4.2 percent in 2017 compared to the 3.2 percent increase in 2016. Consumer spending makes up more than two-thirds of U.S. economic activity, so this reading is an important measure when gauging the strength of our economy.
Another important measure to watch is inflation, as inflation reduces the value of fixed investments like mortgage bonds and impacts the home loan rates tied to them. The closely-watched Core Consumer Price Index (CPI), which strips out volatile food and energy readings, saw its largest increase in 11 months, rising 0.3 percent compared to the 0.2 percent expected. Moreover, year-over-year Core CPI increased to 1.8 percent from the 1.7 percent registered in November.
Wholesale inflation remained tame in December, as the Producer Price Index declined 0.1 percent in December from November. This was the first decrease in nearly one-and-a-half years. It will be important to see which way the trend continues with inflation in the weeks and months ahead, as this could impact the direction of home loan rates.
Despite the mixed news, home loan rates still remain attractive and near historic lows.
Manufacturing and housing news will be the key reports to watch.
Look for manufacturing data in Tuesday's Empire State Index and Thursday's Philadelphia Fed Index.
The NAHB Housing Market Index will be released on Wednesday, followed by Housing Starts and Building Permits on Thursday.
As usual, weekly Initial Jobless Claims will be delivered on Thursday.
The Consumer Sentiment Index releases on Friday.
If you or someone you know has questions about home loan rates please contact me. I'm always happy to help.