Many buyers discover themselves in need of a Jumbo Loan to meet their mortgage financing needs, as home prices increase across the country. This week, I want to discuss what a jumbo loan is, how it differs from other mortgage options and what to look out for when you are looking for a jumbo lender.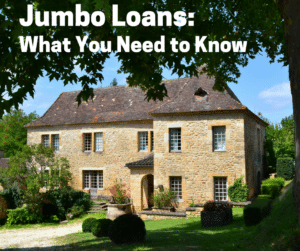 Jumbo Loan Definition
The definition of a jumbo loan depends upon the location of the property. The Federal Housing Financing Authority annually determines the maximum amount for conforming loans. Loans that exceed the conforming maximums are jumbo loans. In most parts of the country, this is a home mortgage over $453,100 in 2018. But, in high cost areas, such as most of the Washington, DC Metropolitan area, a jumbo loan begins at $679,650. Note: this isn't the purchase price or appraised value of the home, but the actual amount mortgaged.  Please contact me to learn the limit for your area or check out the Federal Housing Financing Authority's website.
Differences in a Jumbo Loan
Jumbo Loans are held by your mortgager or an investment company, not securitized by Fannie Mae, Freddie Mac or Ginnie Mae. This does not mean rates are necessarily higher, often they are nearly the same.
They typically require a larger down payment. While there are options available for buyers who do not have or do not wish to put 20% down, some of these do come with a higher interest rate and/or require private mortgage insurance. Private mortgage insurance is not always required for borrowers who put down less than 20%.
Typical Jumbo loan have more conservative guidelines, these are unique to each lender. Typically these include a higher credit score, lower debt to income ratio (the amount you owe in relation to the amount you bring in) and a larger amount of cash reserves (savings/liquid assets set aside for future).
What to look for
A lender offering a wide variety of jumbo loan options. This an important decision, and one size definitely does not fit all in any mortgage– regardless of size.
A lender with years of experience in jumbo mortgage lending. Once again, this has major implications,  don't place your financial future in the hand's of your friend's "mortgage guy" or a website you vaguely remember seeing a commercial for during the game.
A lender you can trust to explain your options and do the necessary due diligance to best prepare you for your purchase. You want thorough, not quick. Efficient, not quick and rushed. YOU DESERVE ONLY THE BEST.
My 15 years in mortgage lending gives me a wealth of experience with Jumbo Loans. The Jeff Stempler Team always thoroughly educates all buyers throughout the process, ensuring that they arrive at the settlement table confident in their home purchase. Ready to experience the better lender? Contact us now. Want to see what people are saying about our team? Check out our reviews on Zillow.