"I've got nothing but money…and I wanna spend it all on you." (will.i.am) Solid consumer spending kicked-off the holiday shopping season on a bright note.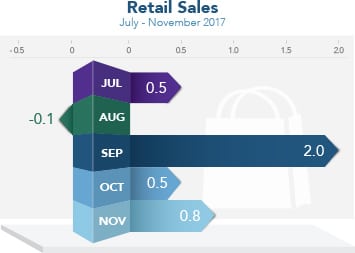 The Commerce Department reported that retail sales jumped in November, rising 0.8 percent. This was more than double the 0.3 percent expected. In other good news, October sales were revised higher to 0.5 percent from 0.2 percent. Since November 2016, retail sales grew by 5.8 percent. A strong labor market coupled with an improving economy were the catalysts behind the gains.
Inflation continues to remain tame. The November Producer and Consumer Price Indexes were both in line with estimates. Core CPI, which excludes volatile food and energy prices, edged lower to 1.7 percent year-over-year. This reading remains below the Fed's target range of 2 percent and is closely watched by the Fed.
In fact, the Fed made a pivotal shift regarding inflation in its Monetary Policy Statement following the Federal Open Market Committee meeting December 12 and 13. The statement dropped the word "transitory" in its reference to inflation sitting below the Fed's target 2 percent and instead noted that inflation had declined in the past year.
Inflation is important to homebuyers because inflationary pressure can reduce the value of fixed investments like mortgage bonds, causing the home loan rates tied to them to push higher. If inflation continues to run at low levels, home loan rates could remain attractive.
At this time, home loan rates remain near historic lows.
The week will be busy from start to finish with reports from key sectors across the economy.
Housing data kicks-off a packed economic calendar with Monday's release of the Housing Market Index. Also look for Housing Starts and Building Permits on Tuesday, Existing Home Sales on Wednesday and New Home Sales on Friday.
The final reading on third-quarter Gross Domestic Product will be released on Thursday, along with the Philadelphia Fed Index and weekly Initial Jobless Claims.
A multitude of reports will be delivered on Friday, including Personal Income, Personal Spending, Durable Goods Orders, the Consumer Sentiment Index and the inflation-measuring Personal Consumption Expenditures.
If you or someone you know has questions about home financing or home loan rates please contact me. I'd be happy to help.