"Who will buy my sweet red roses?" (Oliver) Retailers looked to October sales for signs of a blossoming or thorny holiday shopping season ahead. Meanwhile, housing starts dug out from storm damage.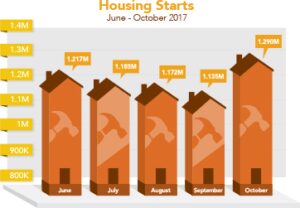 Retail sales slowed in October, rising just 0.2 percent. This was down from the 1.9 percent increase registered in September, which was boosted by post-hurricane spending. Year-over-year, sales were up 4.6 percent. Despite the small gains in October, only a few sectors were weak: building material suppliers, gas stations and non-store retailers. Heading into the holiday shopping season, the National Retail Federation expects total sales of $678.75 billion to $682 billion, up from $655.8 billion last year.
Housing starts hit a one-year high in October due in part to disruptions in September caused by Hurricanes Harvey and Irma. The Commerce Department reported that housing starts surged to an annual rate of 1.29 million units, up 13.7 percent from September, versus the 1.198 million expected. However, starts were down nearly 3 percent from a year ago. Single-family starts, which account for the largest share of the housing market, rose 5.3 percent. Starts on multi-family dwellings of five or more units rose a whopping 37.4 percent from September to October.
Building permits, a sign of future construction, rose 5.9 percent from September to an annual rate of 1.297 million.
Wholesale inflation came in hotter than expected in October. The Producer Price Index (PPI) rose 0.4 percent versus the 0.1 percent expected, fueled by higher costs for services. Core PPI, which excludes food and energy, also rose 0.4 percent, above expectations. Year-over-year, PPI saw the biggest increase since February 2012, rising 2.8 percent. Core PPI increased 2.4 percent over last year.
These inflationary pressures didn't carry over to the more closely-watched consumer inflation reading, which remained tame. The October Consumer Price Index (CPI) and Core CPI were in line with expectations.
Inflation is an important measure to watch because inflationary pressures reduce the value of fixed investments like mortgage bonds and can harm the home loan rates tied to them.
At this time, home loan rates remain attractive.
Meeting minutes might be the market mover in this short week. Markets are closed Thursday for Thanksgiving. Stock markets close early at 1:00 p.m. ET Friday. Bond markets close at 2:00 p.m. ET Friday.
Existing Home Sales will be released on Tuesday.
Weekly Initial Jobless Claims, Durable Goods Orders and the Consumer Sentiment Index will be delivered on Wednesday, along with the Federal Open Market Committee meeting minutes.
If you or someone you know has questions about home financing or home loan rates please contact me. I'd be happy to help.