"A little dancing and some sentiment to put your mind at ease." (Lou Reed) Home prices continued to surge, and consumers have happy feet over employment and wage prospects.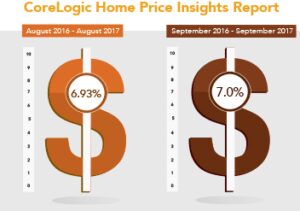 Data analytics firm CoreLogic reported that home prices nationwide, including distressed sales, surged by 7 percent in September 2017 compared to September 2016. Month-over-month, sales were up 0.9 percent in September from August. Low inventories continue to be the catalyst driving higher home prices. Looking ahead, prices are expected to rise 4.7 percent from September 2017 to September 2018.
Although the Consumer Sentiment Index declined slightly in early November, it remained at its second highest level since January with a preliminary reading of 97.8, per the University of Michigan report. An improving labor market was spontaneously mentioned by a record number of consumers, and anticipated wage gains recorded their highest two-month level in a decade. These favorable trends were countered by expectations that inflation and interest rates will increase during the year ahead.
In a week light on economic data, headlines were dominated by rising tensions in the Middle East, which pushed oil prices to two-year highs, and tax reform proposals out of Washington, which kept investors on guard.
Record-high stock prices weighed on bond prices throughout the week, though home loan rates remained just above all-time lows.
A deluge of economic data will vie for the spotlight this week.
Inflation data from the Producer Price Index and Consumer Price Index will be released on Tuesday and Wednesday, respectively.
The closely watched Retail Sales report also will be delivered on Wednesday.
Regional manufacturing numbers from the Empire State Index will be released on Wednesday followed by the Philadelphia Fed Index on Thursday.
As usual, weekly Initial Jobless Claims will be released on Thursday.
Finally, Building Permits and Housing Starts round out the week on Friday.
If you or someone you know has questions about home financing or home loan rates please contact me. I'd be happy to help.