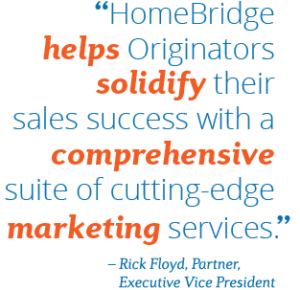 Every HomeBridge Loan Originator gets access to a business-building suite of tools, strategies and support called HomeBridge Selling Solutions.
The goals of Selling Solutions are simple:
More Leads – We help you identify more potential customers.
More Clients – We provide consistent, specific follow-up (on your behalf) throughout the decision making process.
More Sales – We make sure you know when customers are ready to proceed. The end result is more sales!
No other mortgage lender offers this caliber of tools to support its Originators!
 The following services are provided to every HomeBridge Originator:
An on-demand print and email marketing system
Top-notch lead generation and follow-up team
Personalized marketing support
Complimentary moving concierge service for customers
Cash-back program for affinity relationships
 That's not all! You can also elect to add-on these services:
Personalized customer closing gifts
Social media support, including an easy-to-share content library and customized management of your accounts
Business relationship building tools, with best-in-class property marketing and home search apps, intel on local Agents and local market just-listed/just-sold alerts.
Our platform is built especially for Originators who enjoy working in an entrepreneurial environment. HomeBridge offers a diverse mix of traditional and niche products, comprehensive training, continuing education and a technology platform that streamlines the way we do business.
We're always looking for motivated sales professionals to join the HomeBridge team. If you want to learn more about the HomeBridge platform, check out our Team PowerHouse Recruiting website or give me a call!