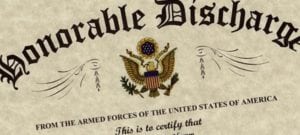 There are many different things that can affect your VA Home Loan eligibility and your military discharge is definitely one of them.  There are 3 types of discharges that are accepted by the VA; Honorable, General and Under Honorable Conditions.
Applications that involve other than honorable will be considered depending on their case.  However, for a dishonorable status a veteran will not be able to take advantage of the VA home loan program or other VA benefits.  On a side note, some discharges may have their status changed by the government.  A review board can examine a veteran's discharge and determine whether or not they can be upgraded.  If an upgrade takes place, a veteran can then take advantage of a variety of VA benefits they were previously denied.
Additionally, in order to be eligible to qualify for a VA loan a veteran must have served for at least:
90 consecutive days on active duty during wartime
At least 181 consecutive days on active duty during peacetime
6 years in the National Guard or Reserves
Veteran was discharged with less than 90 days of service due to a service connected disability or has a compensable service connected disability
For all other questions regarding your VA Loan eligibility, it is best to do your research and also to speak directly with your lender.
The Chapman Lending Team at HomeBridge Financial is honored to help many veterans utilize their VA home loan benefit each and every year.  Our goal is to provide the best customer service in the industry along with the most competitive rates and fees.
Semper Fi, Dan Chapman CAPT, USMC (vet)
ChapmanTeam@HomeBridge.com          Call (760) 456-7139
Get a Free Rate Quote  –  Start an Online Application