"I read the news today, oh boy." (The Beatles) While home prices continued to rise, headline news boiled bond prices.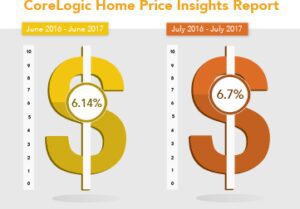 Home prices continued to heat up in July, and the heat wave is expected to last. CoreLogic, a leading provider of data and analytics, reported that home prices, including distressed sales, rose 6.7 percent from July 2016 to July 2017. From June to July, home prices increased 0.9 percent. CoreLogic says the "combination of steadily rising prices along with very tight inventory of unsold homes should keep upward pressure on home prices for the remainder of the year."
Also of note, the second read on second-quarter productivity rose to 1.5 percent from the first read of 0.9 percent. However, within the report it showed that the inflation reading unit labor costs declined to 0.2 percent from 0.6 percent, further signs of lower inflation. Low inflation is typically good news for fixed assets like mortgage bonds and the home loan rates tied to them.
The week's other economic reports had little impact on markets, but the news headlines about Hurricanes Harvey and Irma, the debt ceiling and North Korea had people on edge, including investors.
The uncertainty surrounding these events pushed bond prices up, keeping home loan rates near historic lows.
Fed members will keep a watchful eye on inflation this week.
Economic data releases begin on Wednesday with wholesale inflation numbers from the Producer Price Index, followed by the Consumer Price Index on Thursday.
Weekly Initial Jobless Claims also will be released on Thursday.
On Friday, Retail Sales will be delivered along with the Consumer Sentiment Index and the Empire State Index, which provides a look at regional manufacturing.
If you or someone you know has questions about home financing or home loan rates please contact me. I'd be happy to help.
Source: Vantage