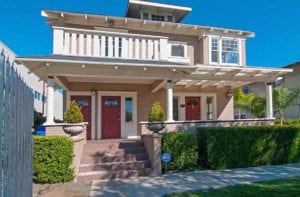 For some buyers, they may want to purchase a multi-family residence so that they may have renters pay for some of their mortgage.  Some possible problems to this scenario may be renovation costs or even vacancy issues.  A multi-family residence that needs work can be financed using a 203k loan, however; the buyer must also live there and be considered their primary residence.
Just like the VA loan, there are loan limits for different counties in the state of California.  The more units a buyer purchases the higher the loan limit will be.  For the San Diego area, a four-family unit is $1,178,750 as opposed to only $612,950 for a single family unit.
The table below lists the counties in California and their loan limit for a 203k loan:
The Chapman Lending Team at HomeBridge Financial is honored to help many veterans utilize their VA home loan benefit each and every year.  Our goal is to provide the best customer service in the industry along with the most competitive rates and fees.
Semper Fi, Dan Chapman CAPT, USMC (vet)
ChapmanTeam@HomeBridge.com          Call (760) 456-7139
Get a Free Rate Quote  –  Start an Online Application
| | | | | | |
| --- | --- | --- | --- | --- | --- |
| County | | One-Family | Two-Family | Three-Family | Four-Family |
| ALAMEDA | SAN FRANCISCO-OAKLAND-HAYWARD, CA | $636,150 | 814,500 | 984,525 | 1,223,475 |
| ALPINE | NON-METRO | $463,450 | 593,300 | 717,150 | 891,250 |
| AMADOR | NON-METRO | $332,350 | 425,450 | 514,300 | 639,150 |
| BUTTE | CHICO, CA | $293,250 | 375,400 | 453,750 | 563,950 |
| CALAVERAS | NON-METRO | $373,750 | 478,450 | 578,350 | 718,750 |
| COLUSA | NON-METRO | $275,665 | 352,950 | 426,625 | 530,150 |
| CONTRA COSTA | SAN FRANCISCO-OAKLAND-HAYWARD, CA | $636,150 | 814,500 | 984,525 | 1,223,475 |
| DEL NORTE | CRESCENT CITY, CA | $275,665 | 352,950 | 426,625 | 530,150 |
| EL DORADO | SACRAMENTO–ROSEVILLE–ARDEN-ARCADE, CA | $488,750 | 625,700 | 756,300 | 939,900 |
| FRESNO | FRESNO, CA | $281,750 | 360,700 | 436,000 | 541,800 |
| GLENN | NON-METRO | $275,665 | 352,950 | 426,625 | 530,150 |
| HUMBOLDT | EUREKA-ARCATA-FORTUNA, CA | $327,750 | 419,550 | 507,150 | 630,300 |
| IMPERIAL | EL CENTRO, CA | $275,665 | 352,950 | 426,625 | 530,150 |
| INYO | NON-METRO | $369,150 | 472,550 | 571,250 | 709,900 |
| KERN | BAKERSFIELD, CA | $275,665 | 352,950 | 426,625 | 530,150 |
| KINGS | HANFORD-CORCORAN, CA | $275,665 | 352,950 | 426,625 | 530,150 |
| LAKE | CLEARLAKE, CA | $275,665 | 352,950 | 426,625 | 530,150 |
| LASSEN | SUSANVILLE, CA | $275,665 | 352,950 | 426,625 | 530,150 |
| LOS ANGELES | LOS ANGELES-LONG BEACH-ANAHEIM, CA | $636,150 | 814,500 | 984,525 | 1,223,475 |
| MADERA | MADERA, CA | $275,665 | 352,950 | 426,625 | 530,150 |
| MARIN | SAN FRANCISCO-OAKLAND-HAYWARD, CA | $636,150 | 814,500 | 984,525 | 1,223,475 |
| MARIPOSA | NON-METRO | $322,000 | 412,200 | 498,250 | 619,250 |
| MENDOCINO | UKIAH, CA | $373,750 | 478,450 | 578,350 | 718,750 |
| MERCED | MERCED, CA | $275,665 | 352,950 | 426,625 | 530,150 |
| MODOC | NON-METRO | $275,665 | 352,950 | 426,625 | 530,150 |
| MONO | NON-METRO | $529,000 | 677,200 | 818,600 | 1,017,300 |
| MONTEREY | SALINAS, CA | $575,000 | 736,100 | 889,800 | 1,105,800 |
| NAPA | NAPA, CA | $636,150 | 814,500 | 984,525 | 1,223,475 |
| NEVADA | TRUCKEE-GRASS VALLEY, CA | $477,250 | 610,950 | 738,500 | 917,800 |
| ORANGE | LOS ANGELES-LONG BEACH-ANAHEIM, CA | $636,150 | 814,500 | 984,525 | 1,223,475 |
| PLACER | SACRAMENTO–ROSEVILLE–ARDEN-ARCADE, CA | $488,750 | 625,700 | 756,300 | 939,900 |
| PLUMAS | NON-METRO | $336,950 | 431,350 | 521,400 | 648,000 |
| RIVERSIDE | RIVERSIDE-SAN BERNARDINO-ONTARIO, CA | $379,500 | 485,800 | 587,250 | 729,800 |
| SACRAMENTO | SACRAMENTO–ROSEVILLE–ARDEN-ARCADE, CA | $488,750 | 625,700 | 756,300 | 939,900 |
| SAN BENITO | SAN JOSE-SUNNYVALE-SANTA CLARA, CA | $636,150 | 814,500 | 984,525 | 1,223,475 |
| SAN BERNARDINO | RIVERSIDE-SAN BERNARDINO-ONTARIO, CA | $379,500 | 485,800 | 587,250 | 729,800 |
| SAN DIEGO | SAN DIEGO-CARLSBAD, CA | $612,950 | 784,700 | 948,500 | 1,178,750 |
| SAN FRANCISCO | SAN FRANCISCO-OAKLAND-HAYWARD, CA | $636,150 | 814,500 | 984,525 | 1,223,475 |
| SAN JOAQUIN | STOCKTON-LODI, CA | $362,250 | 463,750 | 560,550 | 696,650 |
| SAN LUIS OBISPO | SAN LUIS OBISPO-PASO ROBLES-ARROYO GRAN | $586,500 | 750,800 | 907,550 | 1,127,900 |
| SAN MATEO | SAN FRANCISCO-OAKLAND-HAYWARD, CA | $636,150 | 814,500 | 984,525 | 1,223,475 |
| SANTA BARBARA | SANTA MARIA-SANTA BARBARA, CA | $636,150 | 814,500 | 984,525 | 1,223,475 |
| SANTA CLARA | SAN JOSE-SUNNYVALE-SANTA CLARA, CA | $636,150 | 814,500 | 984,525 | 1,223,475 |
| SANTA CRUZ | SANTA CRUZ-WATSONVILLE, CA | $636,150 | 814,500 | 984,525 | 1,223,475 |
| SHASTA | REDDING, CA | $275,665 | 352,950 | 426,625 | 530,150 |
| SIERRA | NON-METRO | $304,750 | 390,100 | 471,550 | 586,050 |
| SISKIYOU | NON-METRO | $275,665 | 352,950 | 426,625 | 530,150 |
| SOLANO | VALLEJO-FAIRFIELD, CA | $431,250 | 552,050 | 667,350 | 829,350 |
| SONOMA | SANTA ROSA, CA | $595,700 | 762,600 | 921,800 | 1,145,600 |
| STANISLAUS | MODESTO, CA | $299,000 | 382,750 | 462,650 | 575,000 |
| SUTTER | YUBA CITY, CA | $276,000 | 353,300 | 427,100 | 530,750 |
| TEHAMA | RED BLUFF, CA | $275,665 | 352,950 | 426,625 | 530,150 |
| TRINITY | NON-METRO | $275,665 | 352,950 | 426,625 | 530,150 |
| TULARE | VISALIA-PORTERVILLE, CA | $275,665 | 352,950 | 426,625 | 530,150 |
| TUOLUMNE | SONORA, CA | $331,200 | 424,000 | 512,500 | 636,900 |
| VENTURA | OXNARD-THOUSAND OAKS-VENTURA, CA | $636,150 | 814,500 | 984,525 | 1,223,475 |
| YOLO | SACRAMENTO–ROSEVILLE–ARDEN-ARCADE, CA | $488,750 | 625,700 | 756,300 | 939,900 |
| YUBA | YUBA CITY, CA | $276,000 | 353,300 | 427,100 | 530,750 |