"Time keeps on slippin'." (Steve Miller Band) While prospective homebuyers want to move through the process of getting into their dream home, that reality keeps slipping due, in part, to limited inventory.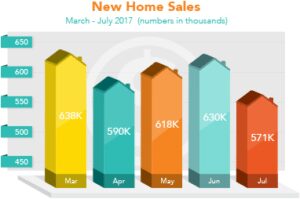 After a strong start to summer, new home sales took a dive in July. The Commerce Department reported July new home sales fell by 9.4 percent from June to an annualized rate of 571,000 units, below the 615,000 expected, and a seven-month low. On a positive note, June was revised higher to 630,000 units from 610,000. Sales inventory for new homes rose to 5.8 months in July, up from 5.2 months in June; this is near the healthy rate of a six-month supply. Year-over-year, sales were down nearly 9 percent.
Existing home sales in July slipped for the second straight month as large declines in the Northeast and Midwest outweighed sales increases in the South and West, according to the National Association of REALTORS® (NAR). Total existing home sales slipped 1.3 percent in July to 5.44 million units from a downwardly-revised 5.51 million in June. Although July's sales pace is 2.1 percent above a year ago, it is the lowest of 2017. Total existing housing inventory at the end of July declined 1 percent to a 4.2-month supply and is now 9 percent lower than a year ago.
Lawrence Yun, NAR chief economist, said, "Buyer interest in most of the country has held up strongly this summer and homes are selling fast, but the negative effect of not enough inventory to choose from and its pressure on overall affordability put the brakes on what should've been a higher sales pace."
While limited inventory may be a pain point in the homebuying process, the good news is home loan rates are still near record lows.
Also of note, prominent central bankers, finance ministers, academics and financial market participants from around the world were at the annual Jackson Hole, Wyoming, Economic Policy Symposium to discuss global economic issues. Fed Chair Janet Yellen spoke on Friday morning and didn't make any big comments on monetary policy or the Fed's balance sheet.
Job data and inflation are the stars of the week.
Consumer Confidence will be announced on Tuesday, followed by the Consumer Sentiment Index on Friday.
On Wednesday, the second reading of Q2 Gross Domestic Product will be released.
Look for inflation news Thursday via Personal Consumption Expenditures, along with Personal Income and Personal Spending.
Also on Thursday, Pending Home Sales will be released.
Manufacturing data comes from Thursday›s Chicago PMI and Friday's ISM Index.
ADP National Employment Report releases on Wednesday, weekly Initial Jobless Claims on Thursday, and Friday we'll see the highly anticipated Jobs Report for August, which includes Non-Farm Payrolls, Hourly Earnings, Average Workweek and the Unemployment Rate.
If you or someone you know has questions about home loan products or current rates, please contact me. I'd be happy to help.
Source: Vantage