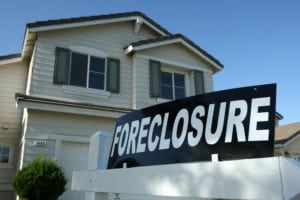 Even with the great rates that a VA loan provides, unforeseen circumstances can arise where the veteran is unable to pay for their mortgage any longer. If a foreclosure seems likely the veteran should first contact their lender.  This is extremely important since the lender can usually set up an alternate payment plan to help prevent the foreclosure from happening.
While most may believe that a foreclosure is simply just losing the home and walking away, this is not the reality.  One thing that borrowers are liable for are legal fees.  Any type of fees that the bank uses to pay a lawyer in order to start the foreclosure proceedings may be passed on to the borrower.  It is not unusual for the foreclosure process to take longer than the borrower intends.  Unfortunately, because this process can drag on, the veteran must understand that they are still liable for any property taxes as long as they have legal possession of the home.
If a loan foreclosure does become unavoidable, it can directly affect a veterans entitlement.  A veterans entitlement is usually a quarter of your loan amount which the VA will cover.  The amount of the entitlement may not be restored until the loss is paid back.
Although it is not ideal to have a foreclosure on your history, it does not necessarily disqualify a veteran from acquiring future VA loans.  If the foreclosure happened more than 2 years ago, lenders can draft a letter explaining the circumstance that led to your hardship.  As long as the loss was paid back to the VA and the veteran's credit in remains in good standing, another VA loan should be obtainable. This can be a complicated process so it is essential to talk with your lender if you have any questions regarding forclosures.
The Chapman Lending Team at HomeBridge Financial is honored to help many veterans utilize their VA home loan benefit each and every year.  Our goal is to provide the best customer service in the industry along with the most competitive rates and fees.
Semper Fi, Dan Chapman CAPT, USMC (vet)
ChapmanTeam@HomeBridge.com          Call (760) 456-7139