10 Ways to Save for a Down Payment
Many potential homebuyers lack the savings for the minimum down payment needed to purchase a home. While some mortgage options require a small or even no down payment, such as FHA mortgages and VA loans, not every home or buyer can qualify.
Even if so, providing more than the minimum down payment upfront can help decrease your mortgage interest rate, which may wind up saving you save you a substantial amount in the long run.
To reach your down payment target or beyond, you'll need to understand your loan options as well as make a few lifestyle changes that will help you reach your magic number sooner rather than later.
What are your down payment requirements?
Your down payment amount is based on several factors, but the chief among them is the kind of mortgage you pre-approved for.
As mentioned, some mortgage options require no down payment. Two of the most popular are VA loans and USDA loans. These are both federal loan programs but differ in whom they serve.
VA loans are guaranteed by the United States Department of Veterans Affairs and provide financing to veterans and active-duty military members. USDA loans are backed by the US Department of Agriculture and aim to fund home purchases in eligible rural areas. If you rule these two programs out, you'll likely have to make a down payment.
A conventional loan is an umbrella term for several mortgage programs that can require down payments between 3% to 5%. The exact number is based on factors specific to you – such as your credit score and the home you're purchasing.
FHA loans are guaranteed by the Federal Housing Authority and provide much more flexible credit and debt requirements compared to many conventional loans. However, their minimum down payment amount is a flat 3.5% — a little above the lowest rate for a conventional loan.
Saving for your down payment
Now that you understand some of your mortgage options and down payment requirements, it's time to look at what you can do to raise the money you need to get your own home.
Budget properly
Your budget is more than just a way to keep track of what you spend. While developing a budget, you can set up financial milestones. These small benchmarks can make your down payment goal feel more attainable while also keeping that goal in the front of your mind. Remember to plan ahead and stick to that plan.
Reduce your debt
Paying the minimum on your monthly bills may sometimes be needed, but do your best to reduce principal balances with larger and more frequent payments. High-interest credit cards and loans can eat away at your savings if you stretch them out.
Share your space
The market for short-term rentals has exploded in the last two years. You can make the most of the demand for housing by opening up your home to a roommate or listing a second bedroom on the many short-term rental platforms.
Ask family and friends
As you begin talking to others about your goal to buy a house, you may be surprised about how supportive many of them can be. In fact, according to a 2021 survey by the National Association of Realtors® (NAR), 28 percent of younger millennials used gift money to purchase their home. If your family or friends are willing to help, let them.
Reduce your expenses
Though it may seem like common sense, the great way to save money is to not spend it. Comb through your month's expenses cancel redundant services. On your next visit to the mall, remain frugal and stay away from luxury purchases.
Start a side gig
Side hustles have become a way of life for many, and for a good reason. Taking a passion and monetizing it may increase your down payment savings significantly. Are you crafty? Try opening an Etsy store. Love driving? Register with a ride-sharing company. Love animals? Try pet sitting.
Reduce your travel budget
Though the white sands of the Caribbean may be calling, they'll still be there once you buy your home. Between now and the closing of your mortgage, you may want to reduce or outright eliminate your travel budget and save that money instead.
Ask for a raise
If you're known for producing quality work at your job, you may be due for a promotion or raise. Even a slight increase in income can help you get to the down payment finish line faster. However, resist the temptation to find a job elsewhere as two years with the same employer is a requirement for many loan programs.
Minimize your lifestyle
Not being able to save money is a problem that could lie with your purchase habits. If you find yourself with a closet full of clothes you never wear or devices and tech that don't really improve your life, you may need to take a minimalist approach to spending. It means asking yourself if you truly need what you're pulling your credit card out to buy.
Keep your money out of sight
Out of sight, out of mind is a good approach to saving for short-term goals like a down payment. If you have a side hustle, funnel that money directly into a savings account that you don't touch. For your full-time job, talk to HR and have a portion of your pay sent to that same account. Without doing anything extra, you could be well on your way to having all you need to buy a home.
After saving for your down payment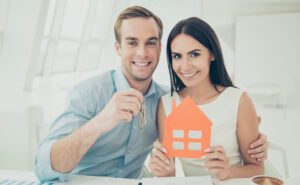 Putting just a few of these tips into practice will help speed up the time it takes you to save the money you need. But once you've got the money, what do you do? The short answer is "buy a home," but the process is more complex. The first step to homebuying is getting pre-approved and that starts with talking to a Mortgage Loan Originator.
With over 30 years in the industry, Homebridge has been financing would-be homeowners and putting the keys to their first home in their hands. If you're interested in sitting down with a local lender, even if you don't yet have your down payment saved up yet, find a Homebridge branch near you and contact us today!
This article was last updated in October 2021.