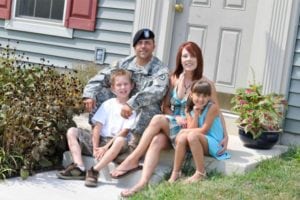 The VA guidelines before 2012 stated that only spouses who died from military-related causes would be allowed to have VA benefits. Since then the VA has changed their stance on loan eligibility for spouses.  The newest law now enables a widow to become eligible for VA home loan benefits even if the veteran's death is not military related.
There are certain caveats in order for the surviving spouse to be able to obtain these benefits.   According to the VA's website the following conditions need to be met in order for the spouse to be eligible to apply for benefits:
The veteran died while in service or from a service connected disability, became a prisoner of war or was missing in action.
The spouse must also remain unmarried until the age of 57 (on or after December 16, 2003) in order to continue to qualify.
If the veteran was totally disabled and their disability may not have been the cause of death
Just like veterans, the surviving spouse can take advantage of the same perks such as zero down for loans up to $612,950 (in San Diego county) competitive rates, and VA no funding fee.  For other questions or concerns its best to talk with your loan officer.
The Chapman Lending Team at HomeBridge Financial is honored to help many veterans utilize their VA home loan benefit each and every year.  We ARE NOT a call center.  Our goal is to provide the best customer service in the industry along with the most competitive rates and fees.
Semper Fi, Dan Chapman CAPT, USMC (vet)
ChapmanTeam@HomeBridge.com          Call (760) 456-7139
Get a Free Rate Quote  –  Start an Online Application