HomeBridge Financial Services and The Jamie Zeitz Team's mission is to provide extraordinary savings to heroes who provide extraordinary services to our nation and our communities every day!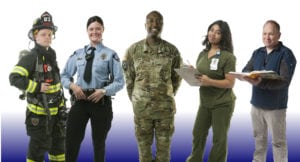 Homes for Heroes, Inc. is the largest nationwide network of affiliate real estate specialists and local business affiliates; committed to providing easy ways for the heroes of our nation to save on a home, and on every day home-related purchases.
Created right after 9/11, the Homes for Heroes program allows The Jamie Zeitz Team at HomeBridge Financial Services to recognize and give back to firefighters, law enforcement, military (active, reserves & veterans), EMS, healthcare workers, and teachers for all they do! It's our way to say "Thank you" – you make a difference in our Jacksonville and St. Augustine communities.

The Jamie Zeitz team and HomeBridge Financial Services, Inc. is offering $1,000 off Closing costs when you finance your home with HomeBridge. This offer must be applied at the time of application and is valid only for first mortgage liens.
Contact us at mailto:jzteam@homebridge.com for more information about this great opportunity to extend extraordinary savings for extraordinary people.
Service deserves its Rewards and we're excited to be part of the Homes for Heroes in North Florida. Get your Hero Rewards today!