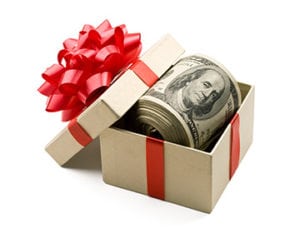 Veterans are in a unique position when it comes to home loans. They are offered a number of great benefits such as easier qualifying, extremely competitive rates and of course zero money down.  While these are all very enticing, there may be other costs that come up that the veteran will have to pay for.  What happens if the veteran does not have the funds to cover some of these expenses?
This is where a monetary gift can come in handy.  Friends and family members can "gift" money to the buyer in order for them to cover costs.  However, there are some requirements in order for a gift fund to be used for a VA loan.
There will need to be a gift letter to include that there is no obligation to repay the money given, the amount of the gift as well as the date of transfer, and the recipient's information.  Documentation must be available to show that the funds were gifted from the donor; bank statements from both parties must be sent in to the lender.  Unfortunately, cash is not acceptable because it can't be traced back from a legitimate source.
As a side note: If the gift is a large amount, it may take time for the bank to process the entire amount. Therefore, you may have to wait up to a week for the funds to be cleared.  After the hold is lifted you will need to submit a bank statement showing that the funds are available in your account.
The Chapman Lending Team at HomeBridge Financial is honored to help many veterans utilize their VA home loan benefit each and every year.  We ARE NOT a call center.  Our goal is to provide the best customer service in the industry along with the most competitive rates and fees.
Semper Fi, Dan Chapman CAPT, USMC (vet)
ChapmanTeam@HomeBridge.com          Call (760) 456-7139
Get a Free Rate Quote  –  Start an Online Application