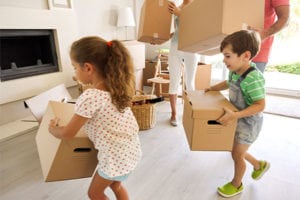 After using your VA loan many active duty military find themselves in the position in the future where they need to sell their home. This can be because they may face a permanent change of station or (PCS) or they may simply want to upgrade to a larger home or a different area. For whatever reason, a veteran will need to deal with the sale of their home before their VA loan is completely paid. A VA loan may be in some cases assumable, meaning that the buyer can take over the loan whether they are civilian or military.
At one point, all homes purchased using a VA loan were considered assumable, but the rules have since changed. Lenders and/or the VA need to approve a loan assumption. Unfortunately, either party are under no obligation to grant them. VA loans are freely assumed if the loan closed before March 1, 1988. During this time the loan assumption is unrestricted, meaning that the buyer assumes the VA home loan without the approval of the VA or the banks.
If a VA loan was closed after March 1, 1988, VA loan assumption is not allowed unless you have obtained prior approval from a lender. There are usually two processes for loan assumptions:
Loans serviced by lender who have automatic authority may process assumptions without sending loan to the appropriate VA Regional Loan Center
Loans serviced by lender who do not have automatic authority must send all assumption requests to the appropriate VA Regional Center which may take many weeks to process
When loans are assumed, it is the servicer's responsibility to ensure that the borrower assuming the property meets the VA 's criteria and lender credit standards. The person assuming the property must also have VA eligibility, however there are a few instances when a loan can be assumed by someone without VA home loan entitlement.
One thing to keep in mind is that the veteran's entitlement in some situations will not be restored once the loan has been assumed. In some instances an entitlement swap can be made but this can make the process much more difficult. The most important thing is to check with the Veterans Administration to acquire any additional information you may need throughout this process.
The Chapman Lending Team at HomeBridge Financial is honored to help many veterans utilize their VA home loan benefit each and every year.  We ARE NOT a call center.  Our goal is to provide the best customer service in the industry along with the most competitive rates and fees.
Semper Fi, Dan Chapman CAPT, USMC (vet)
ChapmanTeam@HomeBridge.com          Call (760) 456-7139
Get a Free Rate Quote  –  Start an Online Application