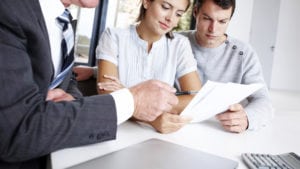 Why is there a misconception out there that if a seller accepts a VA offer, they  will have to pay more in closing costs?
Whether you are the buyer or seller, closing costs are something both sides have to take into consideration. Closing costs are fees associated with procuring and finalizing a home purchase or refinance, and most must be paid before you are able to get the keys to your new home. The VA mortgage program does try to limit the amount of costs that a veteran can pay.
ALLOWABLE VA CLOSING COSTS
Closing costs can come in many different forms. These costs are the actual cost of doing a loan. Prepaid finance charges (PFC) and paid outside closing (POC) costs are also factored in when closing day arrives. PFC costs are directly associated with the loan and can affect your annual percentage rate (APR) which in turn reflects the total cost of borrowing.
PFC items can include things such as:
Points used to buy down an interest rate; which is rare when it comes to VA home loans
HOA fees
Escrow for prepaid interest, property taxes and homeowners insurance
VA funding fee, which VA charges and veterans can roll into the loan or ask the seller to pay
POC items are not factored into overall financing, but they still have to be covered. These can include:
VA appraisal (mandatory)
Credit reports
Pest inspection fee
Home inspection if the buyer chooses to get one (which should always happen)
Finally there are closing costs that are associated with the loan itself include fees such as:
Title exam and insurance
Origination, underwriting and processing
Survey (if necessary)
When it comes to costs related to originating and processing your loan lenders have a few options. A flat 1 percent origination fee can be charged or fees to be charged on an individual basis as long as the dollar amount does not exceed the same 1 percent of the loan amount.
NON-ALLOWABLE CLOSING COSTS
The VA home loan comes with many advantages and there are costs and fees that the VA does not allow homebuyers to pay. Minimizing closing costs is one of the biggest benefits when using a VA home loan. Non-allowable costs include:
Broker fees
Lender document fees
Transaction Coordinator fees
Notary fees
Termite inspection fees (in all but 9 states)
Unfortunately, there is no exact way to calculate how much the closing cost on a VA loan will be since there are a number of different factors to take into consideration. Once a loan application is filled out, a lender has 3 business days to send a loan estimate. This is a basic snapshot of the loan along with estimates of closing costs. This gives a consumer a basic idea of costs associated with a home purchase which will be helpful when it comes time to negotiate with the seller.
CLOSING COSTS
Who actually pays your closing costs often depends on what you're able to negotiate with the seller. The VA has no cap on how much a seller can contribute towards closing costs, so it is possible to ask the seller to cover all of it. Homebuyers in housing markets that are starting to heat up may find that some sellers are reluctant to take on all or a portion of closing costs. For VA borrowers it is pretty common to have the seller pay most if not all. When it comes down to it, have a good realtor who can help negotiate those fees.
The Chapman Lending Team at HomeBridge Financial is honored to help many veterans utilize their VA home loan benefit each and every year.  We ARE NOT a call center.  Our goal is to provide the best customer service in the industry along with the most competitive rates and fees.
Semper Fi, Dan Chapman CAPT, USMC (vet)
ChapmanTeam@HomeBridge.com          Call (760) 456-7139
Get a Free Rate Quote  –  Start an Online Application