What You Should Know About VA Loan Bonus Entitlements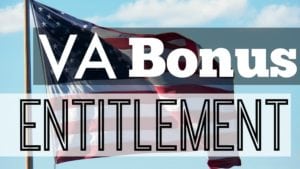 A common question regarding VA home loans is, "How much loan can I get?"  and… It depends on many variables.  One of those variables commonly misconstrued is "I've already used my VA loan, so I can't use it again."  NOT TRUE.  Very plainly, if you continue to sell or refinance past homes, you can use your VA loan as many times as you like.  Also, you can absolutely have more than one VA loan at once.  In some cases, it may require a down payment, but sometimes it does not.  We have had a client with 3 active VA loans at once, and he never put down a penny.
While refinancing or selling a home can free up VA entitlement, there is also bonus entitlement available on follow purchases using multiple VA loans.  Of course, the new purchase MUST always be a primary residence.
According to the VA's website the basic entitlement for a loan is $36,000. This is the amount the VA will guarantee for the lender, not the amount you can borrow.   The VA does not actually lend any money.  The VA does not set a cap on how much you can borrow to finance your home. There are limits on the amount of liability the VA can assume, which usually affects the amount of money an institution will lend to you. The loan limits are the amount a qualified Veteran with full entitlement may be able to borrow without making a down payment. These loan limits vary by county, since the value of a house depends on its location.
While the basic entitlement available to each Veteran is $36,000 most lenders will generally loan up to four times a Veteran's available entitlement ($144,000) without a down payment. Of course this depends on if the Veteran's income and credit qualify and the property appraises for the asking price.
The bonus entitlement comes into play and is available for a borrower who will certify another home as their primary residence, and for a loan that is $144,000 or higher. This loan could be available with no down payment according to the VA.
Most lenders require a combination of the guaranty entitlement and any cash down payment must equal at least 25% of the value or sales price of the property, whichever is less. An example of this would be if a borrower had $23,500 remaining for their entitlement then this would most likely meet the lender's minimum guaranty requirement for a no-down payment loan to buy a property valued at and selling for $94,000. If a down payment is made to include the remaining entitlement, then the loan amount could be larger.
The main take away is that by purchasing a second home using the VA loan bonus entitlement, one must remember that the loan has be above the $144,000 to qualify for bonus entitlement on a no money down loan. The borrower also must occupy the newly purchased home when the loan closes, as well as qualify with approved credit, income and a debt-to-income ratios.  It is important to understand that VA loan rules are interpreted by the VA. This means that the VA law on occupancy is fulfilled once the borrower closes the deal and moves into the property in good faith.
If an existing VA loan is still being paid off, it is encouraged to look over any financial obligations and talk with your loan officer to see what options are best.
The Chapman Lending Team at HomeBridge Financial is honored to help many veterans utilize their VA home loan benefit each and every year.  We ARE NOT a call center.  Our goal is to provide the best customer service in the industry along with the most competitive rates and fees.
Semper Fi, Dan Chapman CAPT, USMC (vet)
ChapmanTeam@HomeBridge.com          Call (760) 456-7139