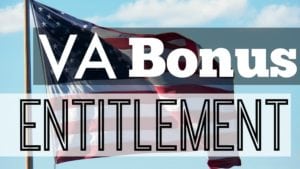 This topic is sometimes difficult for veterans to understand therefore when we break it down it seems to be a little less frustrating. First of all, when addressing the bonus entitlement if you have used a VA loan benefit already you can use it as many times as you need to as long as the entitlement has been restored.  This is typically done when a veteran sells their home that was financed through a VA loan while paying off said loan.
According to the VA Guaranty, they intend to pay the lender around 25% of a loan amount in the event that the loan goes into default. There are a number of different circumstances for each veteran, various purchase prices for homes, and loan limits set for individual counties. That being said each situation will be different, so make sure to do your research and speak with your lender about your options.
The following is an example of how the VA Guaranty works along with the basic county loan limit:
A veteran has full entitlement available and decides to purchase a house for 300,ooo where the basic county loan limit is $424,100.
$424,100 x 25% = 106,025 maximum Guaranty and available entitlement
$300,000 x 25% = 75,000 Guaranty
Since the purchase of the home is below the basic county loan limit a down payment is not required.
If the purchase price of a house DOES NOT exceed the VA county loan limit, the total loan amount including the funding fee, may NOT go abot the loan limit. However, if the purchase price DOES exceed the loan limit the total loan amount may go above the loan limit to include the funding fee. For example – a house is $612,950 which is exactly the San Diego VA county loan limit. Since the purchase price does not exceed the limit, a down payment will be required unless you are exempt from the funding fee. (Disabled vets are excempt from the funding fee).
Don't stress, this can be a lot to take in. The best thing to do is to get in touch with your lender so that they can explain any questions or concerns you may have regarding this issue.
The Chapman Lending Team at HomeBridge Financial is honored to help many veterans utilize their VA home loan benefit each and every year.  We ARE NOT a call center.  Our goal is to provide the best customer service in the industry along with the most competitive rates and fees.
Semper Fi, Dan Chapman CAPT, USMC (vet)
ChapmanTeam@HomeBridge.com          Call (760) 456-7139