What Are The Condition Requirements For a VA Loan?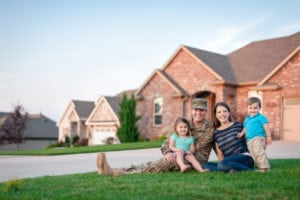 Veterans and service members who are looking into using their VA home loan should know there are certain requirements in order to satisfy both the VA and lenders. The VA has put Minimum Property Requirements (MPRs) in place in order to try and help safeguard borrowers from purchasing properties that are not safe, sound or sanitary.
First, an independent VA appraiser will assess the property and point out MPR needs. This is not to be confused with a home inspection, which isn't a requirement but advisable.  The VA doesn't guarantee a home is free of problems or defects.
It is in the best interest of prospective VA loan borrowers to be familiar with MPRs, in order to make your home shopping experience a little less stressful for you.  Any potential problems that may arise can be spotted and assessed by you and your real estate agent.
Listed below are some general MPRs to pay attention too. However, depending on your location, local codes and additional requirements may come into play.
Pest Inspection
No one wants to buy a home and find out that it has rodents, termites or other problems or even damage due to pests.  The cost of a pest inspection is most likely paid by the seller although it's not a requirement. What is a required is that the VA buyer cannot pay this fee.  At closing, the property must have a clean termite report.  This also includes repairing water damage, chipped exterior paint, and rotten wood.
Water and Sanitation
In order to pass the VA appraisal, properties need clean drinking water, a water heater and working sewage systems. Properties with public water and sewage lines won't necessarily need additional water testing, but homes with private wells must provide evidence of safe water.
Heating System
With the exception of properties in certain warmer climates, the VA property requirements state that home must have a heating system capable of warming the interior to at least 50 degrees Fahrenheit. Solar systems as well as wood-burning stoves count as primary heat systems, however a backup heat source is also necessary.
Residential Property/Living Space
VA loans are seldom used in order to get nonresidential or business property purchases, as the VA designed the home loan program to increase homeownership for veterans and service members.  The MPRs dictate that the financed property is predominantly if not exclusively for residential living. In regards to living spaces VA-loan financed residences must have enough space to live, cook and sleep.
Mechanical Infrastructure
Heating, cooling water, electric and other mechanical systems must be in working order and appear to stay that way in the future.  A major MPR is that the property must have functioning electricity.
Architectural Infrastructure
Crawl spaces and basements with water or water damage must be repaired. Attics and crawl spaces require proper ventilation in order to prevent future damage from moisture and mold. A property must have a good foundation that is stable and leak-free.  Roofs must be in good standing as well as provide "reasonable future utility," which is a vague description.  Lenders will often list a minimum amount of time in years that they would want the roof to last.
Property Accessibility
VA-loan financed properties must be accessible from the street via an all-weather driveway or permanent easement, which allows a homeowner to cross through another landowner's property in order to get to his or her house. Finally, any shared or private driveways may require legal agreements concerning use and upkeep.
Again, these are just a few MPRs to provide VA loan borrowers a foundation of what red flags to look for when looking into purchasing a house. Unfortunately, it is not easy to find a house that doesn't require some type of work. Still, the fewer red flags you see in a property the better.  If you do come across a property that you love that has some property requirement issues, you may be able to obtain exemptions or have the seller pay to make repairs or pay for them yourself in some cases.
Can you Buy a Foreclosure and/or a Short Sale with a VA Loan?
Absolutely you can, as long as they meet the requirements above.
For further assistance and questions about additional requirements contact your preferred lender for more information.
The Chapman Lending Team at HomeBridge Financial is honored to help many veterans utilize their VA home loan benefit each and every year.  We ARE NOT a call center.  Our goal is to provide the best customer service in the industry along with the most competitive rates and fees.
Semper Fi, Dan Chapman CAPT, USMC (vet)
ChapmanTeam@HomeBridge.com          Call (760) 456-7139