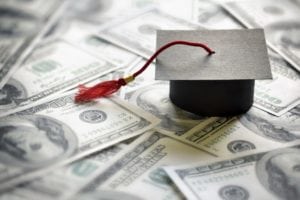 Nearly 70% of College graduates have some sort of student loan debt, with an average of $37,000 in 2016. Just like any other debt, your student loans will be considered in your debt-to-income (DTI) ratio. This DTI ratio considers your gross monthly income in comparison to your monthly debts.
Preferably, outgoing payments, including the estimate of a new home cost should be at or below 41 percent of your monthly income. While there are some exceptions, you should stay relatively close to this number. If your number is above this number, it doesn't necessarily mean that you won't qualify. Each case is different, your loan officer will need to look into your current situation in order to decide whether you can be qualified.
If you are considering a home purchase, first ask yourself if you're financially ready to make this commitment. If so, contact your loan officer and they will help you out in whatever way they can to get you where you need to be.
The Chapman Lending Team at HomeBridge Financial is honored to help many veterans utilize their VA home loan benefit each and every year.  We ARE NOT a call center.  Our goal is to provide the best customer service in the industry along with the most competitive rates and fees.
Semper Fi, Dan Chapman CAPT, USMC (vet)
ChapmanTeam@HomeBridge.com          Call (760) 456-7139