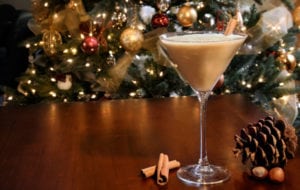 Even if the weather outside is not so frightful, there's nothing like curling up by a fire with a good book and a nice warm beverage. We've chosen three special concoctions perfect for this time of year.
Cranberry Cider
(Serves 8)
2 oranges
2 quarts cranberry juice
4 3-inch cinnamon sticks
2 2-inch pieces fresh ginger, peeled and sliced lengthwise
Sugar to taste
Remove four 3-inch-long strips of orange peel using a vegetable peeler. Juice oranges, straining the pulp. In a medium stockpot, combine orange juice, orange peels, cranberry juice, cinnamon sticks and ginger. Add sugar to taste. Heat over medium-high heat until simmering. Then, reduce to low and simmer 20 minutes. Strain and serve hot.
Peppermint Cocoa
(Serves 4)
1 1/2 cups heavy cream
1 1/2 cups milk
1/4 cup sugar
1/8 teaspoon salt
6 ounces bittersweet chocolate, chopped
3 drops peppermint oil
Sweetened whipped cream and chocolate shavings, for garnish
Combine cream, milk, sugar and salt and heat over medium-low heat in a saucepan. When the mixture begins to steam, add chopped chocolate, and stir until melted. Then add peppermint oil. Pour into mugs and top with whipped cream and chocolate shavings … if there's any left! Decorate with a candy cane for extra mint flavor.
Holiday Spice Coffee
(Serves 8)
1 1/2 cups ground coffee
1 teaspoon pumpkin pie spice
Zest of 1/2 an orange, cut into thick strips
6 cups water
Sugar to taste
Combine ground coffee and spice in the coffee filter of a drip coffee maker and add water to the machine. Place the strips of orange zest into the empty carafe. Brew coffee. Once ready, prepare or sweeten to taste and serve hot.
Happy holidays!