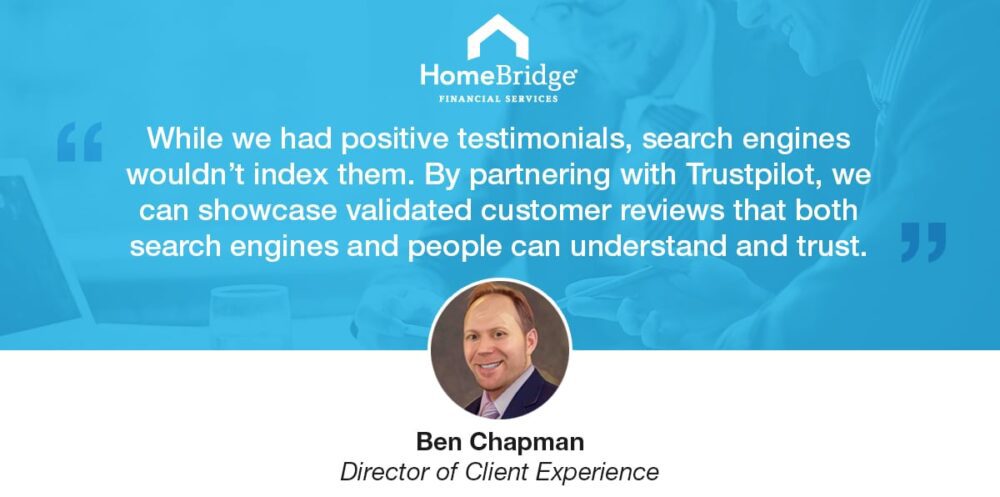 HomeBridge had a mission to be the most highly recommended mortgage company in the country. So they set out to achieve it by working hard to satisfy every customer's needs, going beyond merely "closing a loan." But when Ben Chapman started at HomeBridge as Director of Client Experience, he saw an opportunity to better establish customer satisfaction as their key differentiator and use it as a marketing tool to grow the business.
As HomeBridge wasn't a brand many people were familiar with, he knew they needed authentic customer reviews available where people were researching their brand, in order for prospective customers to feel comfortable doing business with them. HomeBridge had plenty of great customer testimonials, collected by their associates, but Ben knew sharing these onsite wouldn't be credible enough to have a positive impact on search engine results; and in turn, site visitation and engagement. To prospective clients, copying and pasting reviews on their site left room for customers to presume bias, selectivity and/or modification of its testimonials. So he decided to do some research of his own: finding a way to collect and leverage reviews that people could trust.
Challenges
Establish credibility with potential clients
Drive more traffic to their site from organic search and improve online reputation
Streamline their customer service and support processes
Solution
When researching the different review solutions on the market, Ben came across Trustpilot. Struck by the simplicity and solidity of the Trustpilot open review platform, and its extensive safeguards against fraudulent reviews, Ben felt confident that using Trustpilot would provide the review credibility HomeBridge needed.
Results
Full case study detail available here
Empower customers to represent their brand
Drive traffic through organic search
Track reviews for individual employees & branches
Streamline customer support processes
The above is an excerpt from a Case Study published by TrustPilot.