If you find yourself short on counter space, these six inventive tips can help you organize and maximize any counter in the house:
On the wall. Take a look around your walls, particularly walls where cabinet spaces end. Wall-mounted corner shelves or receptacles near workspaces can give everything a lift.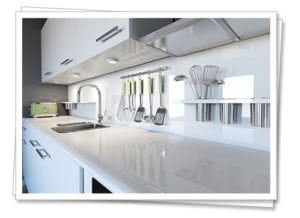 Drawer decisions. More organized drawers can help clear counter clutter. And drawer organizers aren't just for tableware! Find solutions for everything from kitchen doodads, to that bulky butcher's block of knives, to spice racks that fit inside drawers.
Tool time. Save even more drawer space by moving spatulas, whisks and other tools with handles onto a wall-mounted towel bar with "S" hooks.
Think inside the box … or basket. Natural fiber boxes and baskets can consolidate space for groups of items, like measuring cups and spoons or lotions and styling products, while adding that designer touch. Or use them in cabinets to neatly organize space.
Charging chamber. Mount a plug strip to the inside of a drawer to keep those electronics powered-up and out of sight.
Paper pusher. If paper is your problem, try using a wall-pocket organization system with multiple cubbies. Don't forget to create a system for managing the flow. For example, one cubby might be for bills that need immediate attention, another might be for interesting things to read.
One of the biggest keys to cut clutter is frequently taking stock of what you don't use regularly. Ask yourself if you really use it, and if not, don't be afraid to minimize and donate!