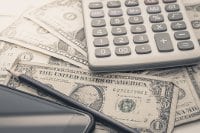 What is the VA Funding Fee?  How Much is the VA Funding Fee?
The VA funding fee is a set fee applied to every purchase loan or refinance. The proceeds go directly to the VA and help cover losses on the few loans that go into default.  The VA funding fee  is currently 2.15% on no down payment loans for first-time users. The funding fee for second time users who do not make a down payment is 3.3%.  If a borrower puts down 5%, the funding fee drops to 1.5%, and if they put down 10% or more, it drops to 1.25%, for first-time users and multiple users.  Veterans with a service-connected disability rating that receives disability compensation NEVER HAVE ANY FUNDING FEE.  The VA funding fee can be added to the loan.
VA FUNDING FEE
2.15%    –  For first time users
3.3%     –  For 2nd time and beyond users
1.5%     –  5% down payment
1.25%   –  10% or more down payment
0%        – 10% or more service connected disabled veterans
Other VA Loan Questions:
The Chapman Lending Team at HomeBridge Financial is honored to help many veterans utilize their VA home loan benefit each and every year.  We ARE NOT a call center.  Our goal is to provide the best customer service in the industry along with the most competitive rates and fees.
Semper Fi, Dan Chapman CAPT, USMC (vet)
ChapmanTeam@HomeBridge.com          Call (760) 456-7139
Get a Free Rate Quote  –  Start an Online Application