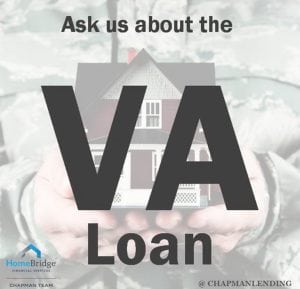 How much house can one afford with a VA Loan?
Well, the answer really depends on the person.  Many financial experts say a home should not make up more than 1/3rd of a gross monthly household budget, which is a pretty good rule of thumb.  No one wants to feel house poor.  VA Loan guidelines usually limit a borrowers debt obligations to about 45% of their gross income.  This means the lender will assess other debts such as student loans and car loans when calculating this ratio, called the debt-to-income ratio.
Some lenders (like HomeBridge) will sometimes go beyond this 45% ratio when looking at the total profile of the borrower.  Some compensating factors could include great credit, substantial liquid assets, or extremely stable income.  Regardless, it's very important to look at your total budget when purchasing home.  These mortgage calculators are a great tool to use when figuring out your housing budget.  They also do a great job of breaking down the benefit of owning versus renting.  As always, contact us with any questions.
Homebridge Mortgage Calculator
Other VA Loan Questions:
The Chapman Lending Team at HomeBridge Financial is honored to help dozens of veterans utilize their VA home loan benefit each and every year.  We ARE NOT a call center.  Our goal is to provide the best customer service in the industry along with the most competitive rates and fees.
Semper Fi, Dan Chapman
Please enjoy the series of articles, and contact me with any questions at all.
Get a Free Rate Quote  –  Start an Online Application
About the author:  Dan Chapman is the branch manager at HomeBridge Financial Services in North County San Diego, CA.  HomeBridge performs VA loans in 46 states.  Dan is a Naval Academy graduate, served as a Captain (O-3) in the Marine Corps, and is a Operation Iraqi Freedom veteran.  He has been focused on helping active duty military and veterans attain the dream of home ownership since 2007.  He is actively involved in several local veteran causes and performs VA loan seminars throughout greater San Diego on a monthly basis.  For a free consultation, please contact us anytime.