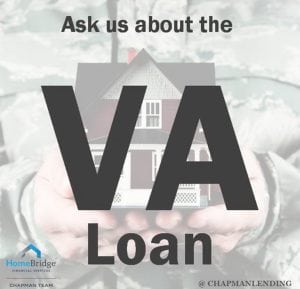 2016 VA Loan Limits
The 2016 VA Loan limits have been released.  The VA loan program does not have a maximum amount a veteran can borrow using a VA loan.  For 2016, the ZERO down payment limit will remain at $417,000 for most counties.  VA Loan borrowers CAN exceed this limit by putting down 25% of any amount above 417k.  For example, one would have to put down 25k on a 517k purchase.  For borrowers in "high cost" counties, some limits have changed for 2016.  San Diego for example has increased from $562,350 to $580,750.  The Chapman Lending Team at HomeBridge covers every county in California and Arizona.  HomeBridge Financial lends in all 50 states.  We are VA Loan experts and help hundreds of veterans each year.
If you live in one of the following counties listed below, follow the data on the chart to determine the VA's maximum guaranty amount for a particular county. These limits apply to all loans closed January 1, 2016 and afterwards.
Below are the California county limits for 2016.
COUNTY            2016 VA LIMIT
EL DORADO              $474,950
LOS ANGELES          $625,500
MARIN                        $625,500
MONO                         $529,900
MONTEREY               $529,900
NAPA                           $625,500
NEVADA                     $477,250
ORANGE                     $625,500
PLACER                       $474,950
SACRAMENTO          $474,950
SAN BENITO              $625,500
SAN DIEGO                $580,750
SAN FRANCISCO      $625,500
SAN LUIS OBISPO    $561,200
SAN MATEO               $625,500
SANTA BARBARA     $625,500
SANTA CLARA           $625,500
SANTA CRUZ             $625,500
SONOMA                     $554,300
VENTURA                   $603,750
YOLO                            $474,950
Other VA Loan Questions:
GET A FREE RATE QUOTE    or    START AN ONLINE LOAN APPLICATION
About the author:  Dan Chapman is the branch manager at HomeBridge Financial Services in North County San Diego, CA.  HomeBridge performs VA loans in 46 states.  Dan is a Naval Academy graduate and Marine Corps and Operation Iraqi Freedom veteran.  He has been focused on helping active duty military and veterans attain the dream of home ownership since 2007.  He is actively involved in several local veteran causes and performs VA loan seminars throughout greater San Diego on a monthly basis.  For a free consultation, please contact us anytime.